A first year management student of the Sri Jayawardhanapura University is alleged to have been forced to lodge a false complaint with the Hakmana Police on Wednesday saying that he was ragged by senior students resulting in his shoulder being injured.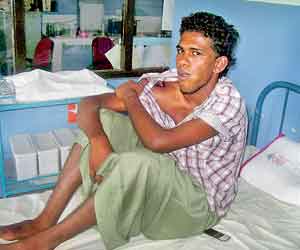 Nuwan shows his injuries
Nuwan Madushanka (21) from Hakmana was allegedly taken by force to the police station by three senior university officials who had pressurized him to lodge this complaint and later hospitalized him for injuries he had actually sustained while working part-time as a labourer at a building site.
"My mother passed away ten years ago and since then my father has been working hard to educate me, my younger brother and sister. My elder brother is in the Army. While studying at the university I am following an AAT course but because my father cannot afford the tuition fees I am working at a building site as a labourer," he said.
He said officials had come to the boys' hostel last week and inspected the bodies of students for signs of injuries. "As I had an injury caused while carrying bricks I showed it to them. The next day I left for home at Ellewela, Hakmana. Three university officials subsequently came to my house in a vehicle and pressurized me saying that I will be sacked if I do not lodge the complaint and took me and my father to the police station. I am able to identify the officials," he said.
According to Nuwan, the officials had given the names of some senior students and forced him to mention their names in lodging the complaint. However he had refrained from naming anyone in the complaint. He later made a statement to the police at the Matara hospital about the incident.
"I am presently in ward no.3 of the Matara General Hospital though I have no major injuries or illnesses. I have missed a lot of lectures," he said. Matara General Hospital Director Dr. Samindi Samarakoon said the student will be subjected to a judicial medical examination.
Jayawardhanapura University Registrar J. Muttetuwegedara condemned the incident saying he was unaware such an incident had taken place. "The vice chancellor and the security division officials are possible individuals who may know about this alleged incident. Not a single person in the administration department that comes under my supervision was involved in such an act," he said.
Attempts made by the Sunday Times to contact the vice chancellor failed.