The funeral of the slain Free Trade Zone (FTZ) worker, 22-year-old Roshen Shanaka was held amidst a large gathering and under tight security at the Gal Oluwa, St. Augustines Church in Minuwangoda yesterday evening. Thousands of mourners ranging from factory hands, schoolchildren to friends, relatives and others flocked to the tiny church from early yesterday to pay their last respects as armed soldiers kept close watch.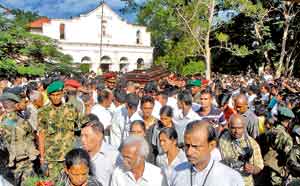 Roshen's final journey from the church to the burial grounds. Pic by Sanka Vidanagama
However, there was a little tension as some friends and relatives of the slain factory worker were outraged at the family's decision to start the funeral rites earlier in the morning, when it was originally scheduled for 3 p.m.
They charged that the family had bowed to political pressure and decided to take the remains to the village church in the morning, long before the expected thousands of mourners arrived at the funeral.
"We were planning to carry the coffin all the way to the church after the final rites were observed by the priest at Roshen's home. But this was not the case. The family took a hurried decision for reasons known best to them," S. Nizam a close friend of the dead boy, said.
He said friends and neighbours of the slain factory worker had worked late into the night during the past few days, ever since the shooting took place, but in the end we were ignored. "It is not fair," he added.Gayan Nadipriya-a relative of the victim said, "This was not a Catholic funeral and the family must take responsibility for that. Usually a church funeral service would last around 20 to 25 minutes, but in this case the body was taken early to the church and kept there for nearly four hours. This was because the family was anxious to have the body out of the house at the earliest," Mr. Nadipriya added.
He said the action of the local parish priest was questionable, hinting he may have been influenced by some quarter. However, the victim's father-Quintus Ratnasekera defended his decision."It was a family decision, there was no outside influence or pressure. There was some pressure to hold the funeral the previous day, owing to the rising tension, but I didn't agree to that," he said.