A senior journalist of Jaffna's leading newspaper Uthayan was mercilessly attacked on Friday night by two armed men with iron rods and is in a critical condition. Gnanasundaram Kuhanathan, 58, news editor of the Uthayan, was attacked when he was walking back to his Navalar Road residence which is about 500 metres from the Uthayan office at Kasturiyar Road.
Reacting to the attack, the New York-based Committee to Protect Journalist said: "We are deeply concerned about Mr. Kuhanathan and hope for his speedy recovery". "For too long Sri Lankan authorities have been indifferent about the targeted attacks, killings and disappearances endured by journalists. That must end," its Deputy Director Robert Mahoney said,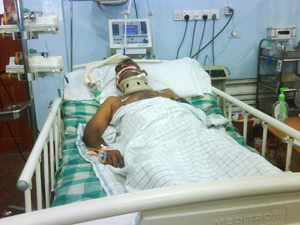 Mr. Kuhanathan receiving treatment at the intensive care unit of the Jaffna Hospital
Doctors at the Jaffna Teaching hospital said Mr. Kuhanathan suffered serious head injures and was in Intensive Care. An iron rod had pierced a hole of three inches in his head area, doctors said.
Eyewitnesses told the police said the assailants had escaped on a motorcycle parked on the roadside.
Uthayan publisher E. Sarvanapavan said yesterday that Mr Kuhanathan was living in the Uthayan office from 2006 to 2010 as he feared for his life. But after the end of the conflict and assurances from the government, he moved out to live with his family.
"I have spoken to senior police officers and complained to them about their failure to provide additional security to the newspaper office. This request was made a few months ago," said Mr. Saravanapavan, who is also a TNA member of parliament. He said Police had so far not made any breakthrough.
The Jaffna Police Chief Inspector Senarath Diyakelinawala said yesterday they were recording statements and carrying out investigations, but no arrests had been made. Police yesterday visited the Uthayan office and recorded statements of the staff including those who took Mr. Kuhanathan to hospital.
The Uthayan newspaper and its staff have come under attack on more than 10 occasions with at least six deaths including two journalists during the past 11 years. However no arrests have been made in connection with these attacks.
Media rights groups and political parties condemned the attack and called on the government to fully investigate it. The Working Journalists Association's Acting President Ganasiri Koththigoda condemning the incident said, "The government should be held responsible for this incident as it has taken place in an area which the government says has been fully secured".
The Sri Lanka Muslim Media Forum President M.N.M. Ameen said such attacks could take Jaffna back to the era of terror and violence. UNP General Secretary Tissa Attanayake said a series of attacks had taken place on journalist in the north as well in the south and few if not any of them had been fully investigated and persons responsible arrested. "Such incidents will bring disrepute to the country," he said.
The JVP said in a statement warned such incidents could force the youth to reject democracy. "The attack is not only a threat to democracy, but an issue of national unity," the JVP said.