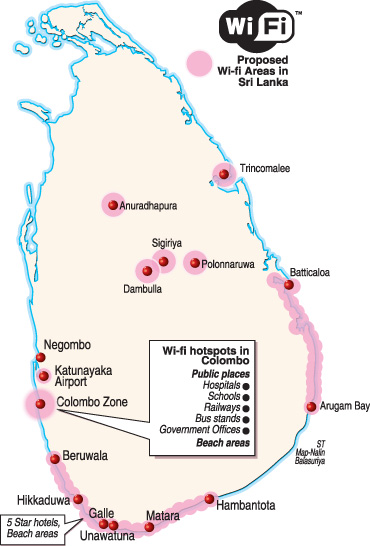 Identified locations in the country are to be converted into WiFi zones where persons will be able to have free internet access, Telecommunication Regulatory Authority (TRC) Director General Anusha Palpita told the Sunday Times yesterday.
He said that already the areas which would be turned into 'WiFi zones' have been identified and will be in operation shortly. Mostly public areas including railway stations, bus stands, government buildings and schools will be covered.
"We have identified the Colombo City, the area around the Bandaranaike International Airport as well as the routes to Colombo, the coastal areas between Beruwala and Hambantota, and Arugam Bay and Trincomalee for the project", Mr. Palpita said.
He said the objective would be to attract tourists as well while helping the locals to access internet services while they are travelling.
However there would limitations imposed on downloading large files or documents as the main purpose was to allow visitors to have fast access to their e-mails, he added.
Mr. Palpita said discussions with the broadband service providers have already been held.
Currently, an estimated five million persons in the country use internet services via broadband and through their mobile phones.
The project is expected to be completed by the end of next year.