Teachers and students in areas affected by the conflict in the north are facing administrative problems as most of their documents have been destroyed, an educational organisation has pointed out.
According to a report by the Educationist Organisation of Tamils (EOT) the schools affected are those located in Kilinochchi, Thunukkai, Madhu, Northern Vavuniya and the Vadamarachchi zones where almost all documentation was lost during the final stages of the conflict in 2009.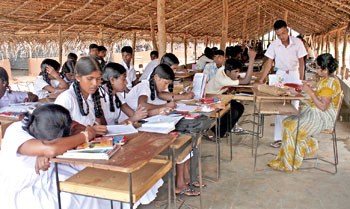 Volunteer teachers conduct classes at the camp for Internally Displaced Persons in Settikulam
Students have been affected as they have lost their Ordinary and Advanced Levels results sheets, school-leaving certificates and university admissions, the EOT said. However, some schools in Northern Vavuniya and the Vadamarachchi zones have been able to save their relevant educational documents.
Some of the missing school documents include log books, admission registers, inventory books, financial statements and leave registers. Many teachers face problems arising from leave issues. In 2008, the teachers who crossed over to government controlled areas were unable to return to their original locations as they were declared uncleared areas, and by 2009, almost all of them had been displaced. Hence, they did not report for duty on a regular basis, and are now unable to cover their period of enforced absence.
Principals and teachers are also unable to receive promotions, because of their inability to produce leave records and submit extracts from their log books regarding their assumption of duties. Missing personal files have also resulted in salaries not being paid, salary arrears being in abeyance and loans based on salaries not being paid in full.
Teachers' and principals' pension papers submitted during the time of the war did not reach the offices on time holding up pension payments as those cases could not be examined properly. As a result many of the staff have left the country without their pensions.Teachers' and principals' service extensions in the north suffered inordinate delays as the relevant applications did not reach the relevant authorities due to the existing situation.
Teachers and principals were unable to apply for Widows & Orphans Pension Scheme for want of salary particulars, since the pay ledgers were not available at the Zonal offices. In some instances family members were unable to confirm whether their next of kin were living or dead since many staff members had reportedly died during the final stages of war.
The claim made by the teachers and the principals for the agrahara scheme to receive insurance benefits was rejected as the applications were not submitted within three months of occurrences of death or injury. These situations erupted since the families were at the welfare centers for nearly five months and there were no chances to apply on time as mentioned in the circular.
Attempts made by the relevant education authorities to solve issues pertaining to missing personal files are found unsatisfactory, while the files that are available have to be checked, verified and updated. Therefore there is an urgent need for teachers and principals to get the relevant records back in order, to overcome their problems relating to their promotions, leave and salaries.
Professional centres for teachers, such as the Distant Education Centre, Postgraduate Diploma in Education Centres and the Bachelor of Education Centres are now defunct. Meanwhile, students in Kilinochchi, Thunukkai, Madhu, Northern Vavuniya and the Vadamarachchi zones have lost their GCE OL and GCE AL result sheets, and these are not even available in the respective schools.
The results of the students who sat the GCE AL exam in 2009 from welfare centres, with their NIC numbers as their index numbers, have yet to be released. Grade 5 scholarship exam results for the same year have yet to be finalized, for students to be assigned to their schools of preference.
Although results of the GCE OL Mathematics paper held in December 2008 was released recently, some students have yet to receive their results. Students in war affected areas could not sit for the OL exams held in January 2009, but sat in December 2009, the results of which have yet to be released. As a result, these students have lost a year of their ALs, and some of them are seeking employment since the OL results are yet pending.
Students are also facing issues with their school-leaving certificates. Due to the absence of admission registers in schools, principals are unable to issue leaving certificate. Therefore, some students are unable to join new schools for their higher studies, while others are missing out on university admissions. Also students sitting as private candidates for the OL and AL exams, after their first attempt, must have school-leaving certificates.
EOT Secretary, General Duties, S. Saravanabavananthan told the Sunday times that these issues have not been resolved because of a lack of serious attntion at zonal and provincial levels.
"If the zonal and provincial level education authorities follow the present administrative methods, an acceptable solution for these issues will never be reached, and the grievances of the students and the teachers will keep increasing, while their immediate future will be one of missed opportunities," he added.
"It is imperative that the Ministry of Education focus on these issues and resolve them quickly for the teachers and the students. Most of the educational problems in the Kilinochchi, Thunukkai, Madhu, Nothern Vavuniya and the Vadamaradchchi zones are unknown to the ministry in Colombo," he said.
"Education Authorities at the zonal and provincial levels are asking the teachers, principals and students to obtain their individual documents on their own without provicing any suitable arrangements. Therefore, all of them are facing difficulties in having to travel to Colombo in search of their valuable documents," he said
"Our organisation was able to obtain permission from the Education Ministry Secretary, to grant funds to re-obtain GCE OL and AL result sheets for the students in the Wanni schools," he said. President- Ceylon Teachers' Union, Joseph Stalin, commenting on this issue, said that his union has twice had talks with the Northern Province Governor and the Educational Secretary of the Northern Province to arrange for the update of the teachers' personal files. Although they acknowledged the requests, they did not take any action.
"We requested the Education authorities to grant special leave for teachers who were displaced during the last stages of the war, in order to solve their salary issues, but nothing came of it," he said.
"The war is over and they are celebrating the war victory, but solutions for these grievances were not sought at any stage. Teachers in the northern province are struggling to proceed with their professional activities. Therefore, if decisions are not made immediately, our union will have to launch a massive picket campaign against this unacceptable situation," Mr. Stalin added
"The framework was surveyed by consulting parallel details of the teachers. Apparently, the preparation of new personal files in Kilinochchi and Thunukkai has been completed but the Mullaitivu area was pending because the officers were not willing to go and there were difficulties in appointing officers. But presently, personal details are being collected in the Mullaitivu areas as well," he added.
An official at the Northern Province education office said, "We first paid the basic salaries to the teachers. On the issue of salary arrears, if the teachers have obtained state loans, and if there is a problem on salary increments, we will have to reconsider the issue further. Other than that, we will collect affidavits from the teachers and get the arrears paid," he said.
He also confirmed that the teachers' and principals' pension issues were resolved recently.
When asked about the issues faced by students in receiving their OL and AL result sheets, and the problems on obtaining university entrance, he said, the result sheets were being issued to the relevant schools, and that the students would be able to receive them in due course.
He said that, since students in war affected areas wrote their NIC numbers instead of the index numbers, there is an investigating team appointed to look into these matters, and they will resolve it very soon. Since this problem arose last year, they are still being looked into.
He further confirmed that he and the relevant Education authorities did not receive any complaints with regard to these issues. On behalf of the government, the ministry is identifying the issues and solutions will be found very soon.