The two rupee note that was in circulation in the 1970s had an image of a skink. The Skink Dasia halianus known as Polon Hikanala in Sinhala was an endemic creature at the time its portrait appeared in the currency. However, it lost its prestigious endemic status in 1984 as its presence was reported in India by two scientists there. But thanks to a study done by the Herpetological Foundation of Sri Lanka it has re-elevated the Sri Lankan species to endemic level last week.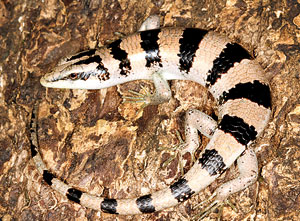 The skink has regained its lost position
Herpetological Foundation President Mendis Wickramasinghe was the lead author of the scientific paper published in the 'Journal of Threatened Taxa' re-establishing the skinks' endemic status to Sri Lanka. By 2001 a total of 84 species of scincid lizards (skinks) were recognized in South Asia - 62 in India and 27 in Sri Lanka, with seven species common to both. Subsequent changes made this number 86 as mentioned in this scientific paper also authored by Nethu Wickramasinghe and Lalith Kariyawasam. With this scientific update the total number of skinks in Sri Lanka stands at 32 with 25 of them endemic to the country.
This skink was first described in 1887 in Sri Lanka based on specimens from Henaratgoda and Anuradhapura. However, J. Joshua and A. G. Sekar in 1984 reported in the Journal of the Bombay Natural History Society that this skink was found in a wildlife sanctuary in Tamil Nadu. Although there were three species of Dasia described from India by that time, Joshua and Sekar mention that "the skink was strikingly different in colour and pattern from species so far known in India and was identified as 'D. halianus', according to the Indian duo.
Mr. Wickramasinghe and the team have examined the specimens deposited in India and compared them with the Sri Lankan D. halianus specimens to distinguish them based on a combination of characters.
The researchers had even referred in their scientific paper to the two rupee notes which had the image of this particular skink. They believe a specimen of this species deposited in the Natural History Museum was the base for the picture in the currency quoting specific characteristics such as shorter regenerated tail of the skink in the note. The currency note which was designed by renowned artist Lucky Senanayake is believed to be based on a drawing which appeared in 'A Coloured Atlas of Some Vertebrates From Ceylon' done by naturalist and scientist Dr.P.E.P.Deraniyagala in 1953.
The researchers had to carefully study the specimens preserved in alcohol and other liquids in the natural history museums to sift through the complex scientific evidences in this kind of taxonomic related researches. Their commitment to elevate Sri Lanka to a Biodiversity Hotspot should be commended.
The Herpetological Foundation is thankful to Sri Lanka's Biodiversity Secretariat, the Nagao Natural Environment Foundation, and the Durrell Wildlife Conservation Trust for assisting the project.
Skink facts
Skinks are the most diverse group of lizards making up the family Scincidae. However it is said that very little research has been done on this misunderstood creature. Many believe that the skinks are poisonous.
Skinks are generally carnivorous and feed on insects and also earthworms, millipedes, etc. They are found in different habitats. However Dasia halianus is an arboreal creature that lives on tree trunks. In most species the tapering tail is easily broken but can be regenerated like those of geckos.
The present conservation status for D. halianus in Sri Lanka is 'Near Threatened'. Loss of habitats, mainly large trees has been the main threat to this skink that inhabits forests in dry and intermediate zones. Mr. Wickramasinghe says that this species of a strikingly beautiful skink in Sri Lanka can grow up to 8 inches in length and stresses the need to protect it.