Deputy Solicitor General Buwaneka Aluvihare (DSG) on Friday told the High Court Trial-at-Bar on the 'White Flag' case that former Army Commander Sarath Fonseka during his dock statement to Court had failed to explain as to how The Sunday Leader Editor Frederica Jansz had distorted his statement given during an interview to the newspaper.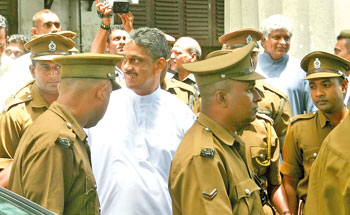 Sarath Fonseka leaving court on Friday. Pic by Susantha Liyanawatte
Opening submissions on behalf of the prosecution, Mr. Aluvihare said that when Ms. Jansz interviewed him, as the Army Commander at the time, he should have said that there was no truth in the reports about the order reportedly given by the Defence Secretary.
Mr. Fonseka is charged for stating in an interview to The Sunday Leader newspaper that Defence Secetary Gotabaya Rajapaksa had ordered not to spare any of the LTTE cadres surrendering even if they were coming with white flags.
He is charged for making a false statement to The Sunday Leader, arousing communal feelings and anti-government feelings among the public and creating disputes among them. The Trial-at-Bar consists of Judges Deepali Wijesundara (President), W.T. M. P.B. Warawewa and M.S Razeen .
Mr. Aluvihare said the prosecution does not question about his maintenance of discipline in the Army but it was a question whether such a person would remain silent if he had heard of an incident of indiscipline. He said that a statement such as orders were given to shoot persons surrendering was serious enough to raise an issue.
He said the question arises why such information was held back from May 2009 until December 2009. He said withholding such information itself was a serious offence.
If such an incident had taken place during an operation it would tarnish the image of the Army and would the Army Commander at that time remain silent about such an incident, he asked. DSG Aluvihare said that in the dock statement made by Mr. Fonseka it was clear that he held a grudge against Defence Secretary Gotabaya Rajapaksa.
The DSG said that the question arises not about fabricating a news item, but whether Mr. Fonseka had actually made a statement to Ms. Jansz, as the Defence Counsel has not denied the fact that he made such a statement.
Judge Warawewa questioned the DSG whether the Prosecution was trying to prove the case from the evidence of the Defence. The DSG said that the evidence of the Prosecution and the Defence should be taken into consideration in deciding the case. Further submissions will be heard on October 6.