A supreme Court order in 2005 banned sand mining in the Deduru Oya, but this illegal activity is on the increase. The practice which decreased after the SC ruling, now takes place at over 20 locations. Resultantly sea water now seeps into the Oya and has adversely affected drinking water wells in the area, residents complain.
They say around 200 acres of agricultural land too has had to be abandoned as the water is now not suitable for cultivation. Among the areas affected are Bangadeniya, Sinnamadama, Jayabima, Nochchiwatawana, Weerakumandaluwa, Veherakele, Diganwewa and Rambepitiya.
Sand mining, which has been illicitly going on since 1995, reached its peak in 2004, prompting environmental groups to file action. The North Western Province Environmental Authority, Geological Surveys and Mines Bureau were among those who filed action against the practice. Residents complain that the police have failed to take action to stop this illicit activity.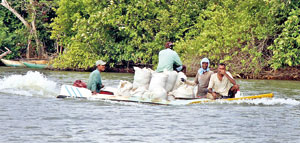 Not a care in the world: Illegal sand mining takes place in broad daylight despite an SC order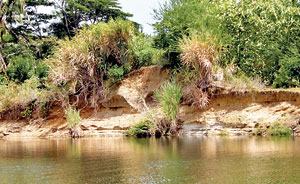 Erosion of the riverbed