At a point when Sri Lanka faces a looming energy crisis, a Solar Power Plant was commissioned in Hambantota last month, to meet the electricity needs of the area. The new plant, which will add 500 kw to the national grid, has been touted by authorities as the first such Solar Power Plant in Sri Lanka. The plant will generate 2,300 units of electricity daily, and is expected to generate 839,500 kilowatt hours annually.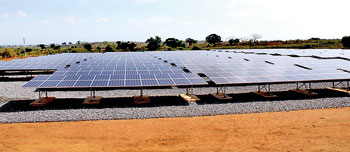 Solar panels at the first solar power plant. Pic courtesy Ministry of Power and Energy
Also known as Renewable Energy (RE), solar power is a freely available clean energy source which doesn't emit any pollutant, unlike Fossil Fuel or Coal-burning Thermal Power stations.
Located close to the equator, Sri Lanka does not experience any seasonal variation in solar radiation. A solar resource map for Sri Lanka shows that the solar radiation varies from 4.0 - 4.5 kilowatt-hours per square meter per day on most parts of the flat dry zone which accounts for about two-thirds of the land area of the country, making Solar power an abundant option.
In this era of Global Warming, much research is being carried out on technologies to reduce cost and increase efficiency of Renewable Energy. However, high initial capital cost is still a problem in promoting Solar Energy. This Solar Power Plant alone has cost Rs 412 million, with the Korean Government funding the project to make it a reality.
The power plant will serve the electricity needs of over 3,000 rural families. Speaking at the launching ceremony, Power & Energy Minister Patali Champika Ranawaka said the time has come for the country to focus on alternate energy resources, as the power generated using fossil fuel is becoming expensive. The Minister revealed plans to increase usage of sustainable energy resources in the next few years, with the promise of achieving countrywide electrification by 2015. As many rural areas are not connected to the main electricity grid, Sri Lanka has to rely on RE to make this objective achievable, point out energy experts.
Former vice chairman of UN's Intergovernmental Panel on Climate Change (IPCC), Prof. Mohan Munasinghe is also of the view that monetary benefits alone should not be the sole criteria when promoting RE. Prof. Munasinghe who was also an advisor on Power and Energy to former president J.R. Jayewardene, pointed out that small scale RE projects are best suited for areas located far from the national grid. When cost of connecting these areas to national grids add up, the initial capital cost of setting up of RE plants will be justified. He also says that, most RE plants are easy to operate. Hence, the surrounding rural community itself can be trained to operate these plants. The Prof. adds that, this would enable to technically empower Sri Lanka's rural community, especially the youth.
A second Solar Power Plant is also being built near the same locality in Hambantota, and will be in operation soon. At present, unconventional RE contributes only 6% of the national power generation, excluding the electricity generated by conventional, large hydropower projects. The Sustainable Energy Authority, the apex institution driving Sri Lanka towards Energy Sustainability, targets to increase non-conventional RE power generation by 10% by 2015. There are many mini hydropower projects that have been established as RE sources, but most of the water sources are almost fully utilized, limiting further expansion. Hence, the country has to turn to Biomass (dendro power), Solar or Wind energies to achieve this RE target, point out Energy experts.
Government has also recently revealed plans to set up "Wind Energy Parks" to allow investors build wind farms. The first such wind energy park will be established in Mannar.
However, Environmentalists point out that the country should also be carefully evaluating its RE options. Though it cuts pollutant emissions, clearance of large tracts of land is required. For instance, Wind Farms make other environmental impacts. A mini hydropower project being set up in the Mahaweli River is in the spotlight recently, for not following EIA procedures and for dumping used solar panels, which will add to the e-waste. Hence, every aspect has to be considered, but RE is the way forward, point out experts.
Sampur Coal Power Plant Agreement signed
Despite attempts to move toward Renewable Energy (RE), Sri Lanka this week signed an agreement to set up its second coal power station at Sampur in Trincomalee. This will be a joint venture between India and Sri Lanka, at an estimated cost of US$ 500 million. Construction is expected to begin next year, and due to be completed in 2016. The country's first Coal Power plant in Norochcholai was commissioned earlier this year, but is not operating to its potential due to many technical defects. The Chinese-built plant has been shut down on several occasions, allegedly for being unstable. Hence, it is important to evaluate what has gone wrong in Norochcholai, so that those mistakes will not be repeated in Sampur.
Energy experts point out that it is not prudent to move towards Coal Power, as it may become an expensive option in future. Addressing journalists at a forum organised by the Sri Lankan Youth Climate Action Network on 'Climate Change & Energy Sustainability', Executive Director- Sri Lanka Energy Forum, Asoka Abeygunawardana said that it is not prudent to move toward Coal Power, as it is a depleting resource whose cost will increase in future, compelling us to spend more on electricity. When these unforeseen costs are summed up, the initial investment for RE is worth it, he says.
Mr. Abeygunawardana is also an advisor to the Power & Energy Minister, and the author of "A World without Oil or Coal - a solution to Sri Lanka's electricity crisis in the post fossil fuel era".
In his book, he highlights that energy supply plans without taking into consideration the global energy crisis, should be stopped even at this late stage. "Sri Lanka, having built oil power plants, while staring the oil crisis in the face, is now fighting to construct coal power plants, with the coal crisis and climate change staring them in the face. Exchanging one rapidly depleting source for another is possibly the most foolish policy decision that the government can make. Instead, it should strategise and implement a plan for tapping RE sources over the next six years," he states.
In the preface of this book, Chairman- Green Movement, Suranjan Kodituwakku writes the need to recognise the Government's dubious approach to solving the energy crisis, by stating on the one hand, that we should move towards RE sources, while on the other, it is constructing more and more coal power plants.