Marie Alles Fernando's studio is, as she says, "the rest of the world." And when she sits at her easel with a blank canvas before her, she sees in it a world of possibility and challenge.
Several things come into play simultaneously: the scenes and situations she has witnessed in her extensive travel, the light, the colours, the emotional experience of taking a memory and taking a step beyond what was seen by bringing it to life in an oil painting. Yet, as the tip of Marie's brush touches the canvas, her mind is quiet and entirely focused.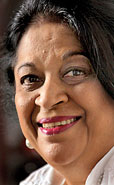 Marie Alles Fernando. Pix by M.A. Pushpa Kumara
"You have to be calm," she says, elaborating on her belief that painting is a form of meditation. "You have to be strong too, because it is not only physically demanding, but mentally challenging and intellectually stimulating."
For Marie, good art is all about composition, texture and harmony in colour. "Of course, there is artistic licence in the colours used- I don't believe in reproducing the exact colours of the scenes as I viewed them; a photograph does that. What the artist does is to make subtle changes and make the art one's own."
And this is exactly what Marie does with her work- a quality recognized by a panel of 160 judges who presented her with the award of Asian Top Fashionable Creative Design of the Year in Dalian, China in April this year. "The award really inspired me," says Marie. "The fact that people from another country (especially China which has only recently opened its doors to the rest of the world) appreciate my work is something that brings me a lot of joy.
Making colourful and effective use of a killer combination- a lifelong love for painting and a love for travel, Marie Alles Fernando's upcoming exhibition- titled 'Asian Journeys'- deviates from the Sri Lankan themes which have characterized her work for many years.
"I have travelled all over the world, but I am fascinated by Asian countries, with their ancient cultures, traditions and closeness to nature," she says. "Asians are not scared or reluctant to express themselves with colour, or of expressing emotions, whereas in the West I have seen a certain level of restraint which I feel fractures people."
Whether her paintings depict the calm within a Chinese temple or the vibrant colour outside; the colour of an Indian high society wedding or a burial ceremony in Nepal, the paintings are all distinctive, charged with the same energy seen in her work previously.
Marie Alles Fernando's selection of paintings at 'Asian Journeys' will be open to the public at the Harold Peiris Gallery (Lionel Wendt) on December 17 and 18 from 10 a.m. to 8 p.m.
"I was really inspired by how calm the people were in the places I visited," says Marie, recalling her experiences of China, India and Nepal. "In Nepal, the people really live by what they believe- their religious practices are a daily way of life." She describes a scene by the banks of a river in the Katmandu Valley. "Whether you are royal or a commoner, the ceremony remains the same. The remains are cremated, and the ashes scattered on the river."
Given pride of place among the works displayed in Marie's studio is a painting of the ancient 'Rain Tree' in Bangalore. Planted in 1848, the tree gets its name from the cascades of soft foliage and the belief that the tree spreads moisture. "I love trees, and the way each tree has a character of its own," reflects Marie, indicating the cooling, comforting presence of the rain tree which has stood sentinel, watching history unfold, and the stance of another weather-beaten tree at Horton Plains. "In some ways, trees are like humans- they are living beings; they keep on growing and each has its own story- by their appearance you can see what they have been through.
Like the Rain Tree, each of the 45 exhibits at 'Asian Journeys' tells its own story. "Hopefully, my painting will give others who view it, the same joy that I had in experiencing the scene," says Marie. "That for me is the most important thing about being an artist- that viewers are inspired by the emotion they feel in viewing art. This can only happen if you are in the right frame of mind. It is possible to be guided, but no one can really teach you art. It must come from within; deep within."
Marie Alles returns with scenes from her journeys
As I write this, my gaze is on a picture dominating my sitting room, "An Abstract of Trees" by Marie Alles Fernando. Trees are among her characteristic themes and she projects their many shapes and forms. There are those with massive trunks and spreading branches that construct different outlines and patterns. Among them a majestic tree that inspires a small wayside shrine to be set up in its shade and protection, a sight often seen along roads in the interior of Sri Lanka.
In the present exhibition we see the huge canvas across which the Rain Tree stretches its wondrous limbs. A superb realization of its shower of leaves which appear to evoke rain drops. Always experimenting to create a fresh ambience, Marie uses unexpected colours that stir and enrich the imagination. One result is the "Rain Tree" – This tree is at the Taj West end Gardens in Bangalore – India.
Marie travels widely to expand the physical horizons of her art. Her recent visits to China have activated an interest in depicting its different types of landscape where rivers are wide and deep within steeply rising gorges and the mountains climax abruptly in sharp, jagged peaks. Visiting an ancient temple in a Chinese city where gold is lavished on its interior and exterior ornamentation, she uses a striking palette to bring its impact to the viewer.
In India a brilliant occasion of a high society wedding is expressed in vivid hues. In poignant contrast, two young children sitting together on a step in a street in Nepal provide a study in poverty – the other end of society. These are some of her paintings that will be exhibited at her upcoming exhibition, Asian Journeys.
A new element in this exhibition is the artist's diversion into another area of art-pastels. These drawings are effective small works of young women in joyful poses. Again, the colours are bright and refreshing. One of Marie's favourite themes – the lotus – also features in these pastel studies.
Shelagh Goonewardene.