In the good old days, a car was a car. It was not, for example, a "land vehicle" such as a truck or a tractor. But that was before the invention of the term "crossover". This versatile epithet has been employed to amalgamate the body of a sedan or saloon, let's say, with the spirit of a sports utility vehicle, or SUV for short. If a reputable manufacturer does it, we sigh and simper and add the nomenclature "crossover SUV" to our oohs and aahs. And pay a hefty price for the privilege of owning and driving one.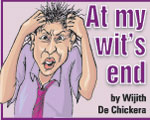 It is a zeitgeist that has been absorbed by a practical sphere far removed from the highways and byways of motoring. The time has come when we can no longer rely on the traditional values of politics in which a spade was a spade, and never "a triangular gardening implement". In the bad youthful dawn of local national parliaments, an MP who crossed over from one side of the House's aisle to the other was a defector, pure and simple (no matter how highly principled the political athlete). Today, defection is rarely simple and never pure… and the nation is yet to determine the accumulated cost of all those crossovers of the recent past. For a politico who crosses over - for love or money, or both - takes a bit of the polity's soul with him or her.
To my thinking, this phenomenon has three aspects worthy of reflection. The first is that words have an extraordinary power to control and shape reality. The second is that no matter what we may call it now, a thing is a thing is a thing - and let its newfangled labels hang themselves higher than Haman. The third is that when we give our word and fail to keep it, there is a much higher toll to pay than if we never gave our word in the first place. We examine each of these very briefly below.
Crossovers
Take the most recent politico to jump ship. One camp will characterize his career move as a brilliant one that will bring glory to the country in the same breath as it will heap kudos on his head. Another school of thought has it that this is yet another example of blatant carpet-bagging which has become the norm… to such an extent that it is no longer possible to stem the rot, let alone reverse the tide.
The individual in question will probably be torn between two extremes, being of one mind in public ("I did it for the nation's youth") and another in private ("My own children were uppermost in mind"). On the face of it, there's no telling which view is right. But that's only because of the extraordinary power that words have to control reality.
In the good old days, politicos who crossed over were - as a rule, perhaps, with some exceptions - men of character; and were mentioned in the same breath as the words 'noble', 'cause', 'principle', and 'sacrifice'. Today, many men and not a few women have crossed over for such transparent reasons as personal gain and partisan expedience that the word "crossover" has been robbed of its power to emote - either positively or negatively.
We don't know quite what to think of a crossover politico, because government propagandists - the unscrupulous makers of such a modern brand of neo-political beings - have robbed defection of its principled values by attributing an alluring pragmatism and populist praxis to the process. In English, pure and simple, the powers that be get so giddy on their high horse of do-good-ism that stealing sheep is no longer seen as theft, but rather as common sense - and quite the done thing in the new nexus of national-personal interest. Not quite pure, this English, and never simple; but never mind…
Double crosses
What if those of us interested in a return to the old republican virtues were to characterize and present our happy band of crossover politicos for what they are, rather than what they seem to be or want to appear to be? Again, words are key to the concept. In public discourse or private conversations, leave alone newspaper reportage, we could and should essay an attempt to win back some soul and something of sterling value if we were to begin to call a triangular gardening implement a spade.
For instance, a crossover politico is a defector, a deserter, a deceiver. He or she is a traitor, pure and simple (although in this patriotically oriented age, the epithet is never simple and rarely pure). In the rare instance where MPs may cross over from opposition to government (God forbid, do we hear the opposition say and the regime pray?) on a principle, where neither their own motives nor the platitudinous mouthing of their pious masters is suspect, we will exercise charity and characterize them as merely misguided.
Crossing the bar
We understand that the law of the land, in tandem with the mechanisms now available to the respective parties who have been double-crossed by defectors, can act to redress the balance. While this may be a two-edged sword that cuts both ways, depending on how the court that is supreme interprets either rule or regulation, the development is not without some merit. It may remind aspiring elected representatives of the people not to give their word lightly to their respective electorates.
Because now - like in life's other relationships as in politics - there is a price to pay for giving one's word and keeping it.
All at sea, dears? Join the club. All we know and need to know is that neither you nor I are willing to put up with these merry merchants of mayhem any more. Defect, and be damned. We will publish the matter at home and abroad. For a car is a car is a car - and to perdition with the tribe of crossover politicos.