Circumvent Colombo's mires of mediocrity and consider Galle. Too far? Doable!
Nico's Bistro: Kamal is a celebrity, Nico is a 31-year-old Bombay boy who constructs bar/restaurant menus. They married in Galle and transformed a villa into a bistro. Pass Krisna Mehtha paintings through antique pillars to a pool and alfresco restaurant hemmed by an arrayal of Jaffna temple pillars. Antique urns, pots and vases pose around. But the antique-finish bar chairs turn their back on the setting, admiring instead the outdoor bar's antique billiard lamps. But the diner's eyes are bewitched by ample seas rolling with bangles of sapphire, emerald and jade. Until the food arrives…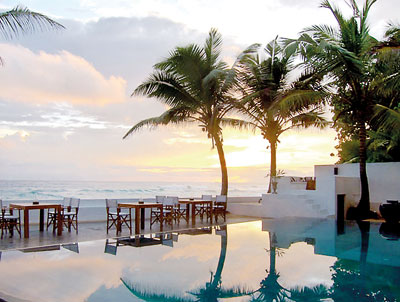 Nico's Bistro: Good food, swim, surf and sleep
The menu is curt, but mastered. Nico says they dispense with preservatives, MSG…. Everyone says so. Let the food speak for itself, I decide. That the food tarries to come attests to à la minute preparations. The Mediterranean mezze platter, if a tad salty, includes splendidly textured hummus and tzatziki. Lunchtime sandwiches impress. But it's those pizzas with bases flatter than a Parisian model's belly and as minimally clad as a Parisian model's body that arrest. Puree (made with fresh tomatoes and herbs) and cheese cover bare essentials or, essentially, barely cover. Respite from those fat rugs of canned-tomato puree and oil-spewing cheese that pall pizzas around Colombo. I tell Nico his is one of the only two outstanding pizzas I've had in Sri Lanka. Nico acknowledges Dimuthu Gamage's guidance. Yes, the insuperable Prince of Pizza "Dimu."
Post-lunch swim, surf, sleep (they've three rentable rooms). Stay on for stunner sunsets (best view from a sofa-studded poolside perch) over award-winning mixologist Deepak's cocktails.
For supper the menu changes; the eatery accordingly changes look donning a shimmer of candles and lamps. Supple homemade egg pasta bearing seafood (veg options available) is served with homemade pesto or the cheeky lunu miris, a local play on classic aglio olio. Nico says his menu was more venturesome but required domestication to appease most palates. Their biriyani most satisfies locals.
Indeed, this is one glam address that doesn't terrify Lankans. Galle is aswarm with expats who apparently regard locals as irritating invaders of expat exclusivity: Galle seems abstracted from Lanka, Lankans bewail. But at Nico's one spots locals- entire families. And the hip bunch will be rocking at the imminently-launching Sunday "Tikki Cocktails": mixes and music until sunset.
And dessert? Nico's fabled cheesecake is priced scarily at Rs. 1000 a slice. Nico explains they aren't being wantonly exorbitant: the base is of homemade almond biscuits and Nico uses special cake cheese (not common Philadelphia). Nico further elaborates that the exiguity of ingredients escalates prices across Galle but his prices are the lowest (beats Rs. 1200 for samosas at Galle Fort Printers). He says they make little profit but persevere out of passion. So says everyone. But this time it sounds true.
Chocolate fondant, if sweet, is well-textured. I implore Nico to maintain standards for my reputation is being decimated by recommended restaurants whose excellences don't outlive the journalistic review. Nico reminds I took them unawares- they hadn't the time to give their best. Well, let's hope they save it for you rest.
Nico at Orlanda: Just-launched, inspired and inside Galle Fort. Café culture strikes Galle. Station on benches by long wooden tables like those at Oxford Colleges. A shelf juxtaposes books and basketed breads as a recession of Orlanda antiques mounts in the backdrop whilst an antique window frames an open kitchen. A golden-rain chandelier imparts glitz to chic-antique interiors. Lounge around sofas munching chocolate croissants. Croissants and Danish could be flakier. But discover fresh breads (herb sourdough, sunflower, nutty grain…) made using startling "seed culture" techniques. Super sandwiches are packed with fillings prepared as you wait. Pizzas (different from those at Nico's Bistro) cost a ludicrously little Rs. 850. Inside Galle Fort!
Kahanda Kanda: Heartbreakingly exquisite. But attitude can be equally heartbreaking. There seems a preference at this British-owned establishment for guests of the imported variety. Local staff strut imported accents, although the fragile importation perhaps fractured during conveyance. One staff member of nondescript designation and nondescript accent who manages and answers calls pronounces "Kahanda Kanda" with so perverse a distortion that no Lankan calling would realise they'd got through to the hotel… It's almost a mirthful revival of the Raj. Wish the 22-year-old winsome steward Asanga could teach his superiors about hospitality. But hospitality cannot be learnt…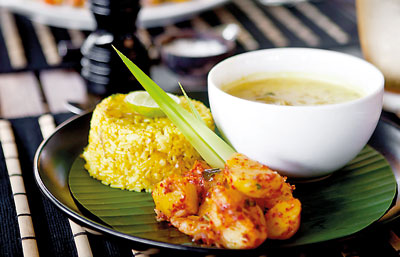 Kahanda Kanda: Cuisine that focusses on local ingredients
Nor can style. And KK is a triumph of style with its water bodies spouting sinuous statues, elegant verdant weave and individually decorated 8 suites, an arras of Notting-Hill-home quirks, Balinese exotica and Lankan oddments. Expect ebony four-poster beds, antiques, artwork, libraries…. Book Dubu Suite, an imported Balinese house (including sculpted ceilings) set beside a private plunge pool and flanked by lavish outdoor bathrooms.
The Peacock Suite has gardened outdoor showers and a courtyard overlooking tea estates fervid with fauna. Curiously, though, for $510/suite you haven't the expected complimentary bottled water, tea/coffee, bathrobes, toilet amenities.
Never mind. Soon I'm transported sipping expertly brewed coffee on my private terrace. Homemade muesli is ablaze with apricots like slivers of sun and golden roasted cadjus and almonds. Pre-occupied with the lushest village curd and treacle, I hardly notice a peacock flurrying across.
KK's restaurant occupies a pavilion teetering on a cliff edge. Glimpse a meander of Koggala Lake interlaced in cascading trees. Suppers enchant. Despite a packed restaurant service doesn't falter. Chef Ruwan Silva who opened Taru Villas consults guests before crafting set supper menus. His beetroot and orange gazpacho with yoghurt is a masterpiece where the beet's bitterness equilibrates citrus tartness. Red Curry Chef learned to make in Thailand and learned impeccably. French tourists are heard detonating rapturously (and the French are so fastidious). Enfin, colossally cool coffee ice cream, homemade and seemingly sugar-free.
One is told KK uses no preservatives/MSG. One wonders who upholds Galle's flourishing MSG industry. Rs. 3000 for three courses Chef Ruwan reveals repels locals. However, aesthetes swear the tremendous ambiance justifies the price. Besides, fine dining restaurants oft extort Rs. 3000 course. KK's cuisine isn't declared "fine dining," but it's infinitely finer than much in Colombo, where buffets aren't cheap. Oh, do wean off those baneful buffets and explore destination dining.
Imported ingredients KK discourages. They even serve "kade" paan. The nationalist might find this profoundly patriotic, the tourist might see charm and the cynic cost-cutting at any cost.
I was reading "Sea of Poppies" during my stay and perhaps unwittingly read into KK's workings a re-enactment of the astronomic profits on which the Empire sustained. Never mind. KK is bewilderingly beautiful. One of Sri Lanka's two most beautiful hotels, if not the loveliest.