Dressed in a canary yellow t-shirt, Koluu meets us on the verandah of his home in Wellawatte. The laughter of friends around his dining table drifts out through an open window as Koluu flips open the book he's carrying. Reflecting the tastes of its author, it's a bright pink. We've interrupted his luncheon gathering for a sneak peek of 'My Way', a collection of recipes by the man who has become one of Sri Lanka's best known celebrity chefs. The book is due out next week and within the first few pages Koluu sets the tone with a declaration that good food can be even better than sex.
"I love feeding people and I love eating," Koluu reveals, explaining that these are recipes he's cooked and collected for years. Fans of his food will immediately recognize a few signature dishes – from the triple layer chocolate mousse to the Portuguese influenced seafood rice, they're in there.
The recipes in this book are also united by a certain simplicity and allow for ease of preparation says Koluu, who has a second cookery book already planned. The latter will feature the more demanding, fine dining recipes, so he's keeping this one more amateur chef friendly.
Koluu who first discovered he wanted to be a cook as a teenager, began his career baking cakes (his specialty was a chocolate cake with American frosting and a hint of ginger at its centre) but that's one thing that's changed – he doesn't make those anymore. Instead his repertoire has expanded to include flavours from the cuisines he encountered on his travels.
After stints abroad, most notably as a chef attached to the Portugal Foreign Office, he cooked in Iraq and in Europe between 1989 and 1998.
At the end of that trip he returned to Sri Lanka, where he founded and ran three restaurants – Koluu's, Frangipani and Tulips were all initially successful, but problems with their operation forced Koluu to bring the shutters down on them. His fourth restaurant – Lemon – has taken over from where its predecessors left off, but Koluu doesn't seem overly attached. "Restaurants are like bad marriages," he says straightfaced. "When you close the door on one, you can open the next."
Aside from his restaurants, Koluu's has also starred in his own televised cooking show and is currently at work on a new series. That experience of distilling his wisdom into the spaces between the commercials carried over into the book. He says he's been working on making the recipes inside as simple as possible. His cuisine also emphasizes fresh, good local produce and whenever he can, such as with his Italian dishes, he suggests locally available substitutes. (A tip: pine nuts can be replaced with cashewnuts in a pinch.)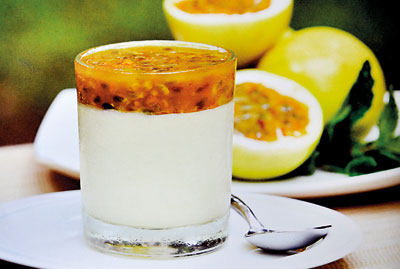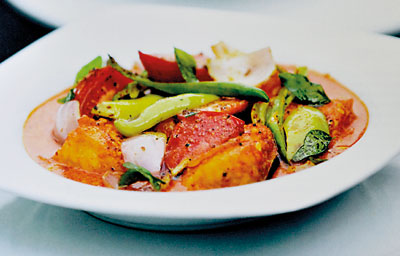 The book is essentially served up in two halves. The first consists of 'international' dishes under sections such as salad, soup, rice, pasta, vegetables, seafood and chicken. The selections range from the classic (pasta served with prawns and herbed cream sauce) to the unusual (soup made with curried apple and peach.) Skimming through the pages, I see chicken served with mango and coconut milk, a spinach roulade, rice made Burmese style and a hot and spicy salad made with glass noodles. A sizeable section at the end of the international half offers over 20 recipes that are designed to indulge your sweet tooth – "in this country we love our desserts" – it's all lemon meringue torts and cheesecakes in here.
The second half of the book is dedicated to traditional Sri Lankan food and is also divided into sections such as rice, vegetables, seafood, beef and pork. (In there you'll find Koluu's favourite recipe for Pork Kalupol.) By the end of the book, having gorged yourself on the abundance contained within, it's easy to believe Ranil de Silva's assertion in the preface – "a good eight inches of my waist line can be credited to my friendship with Koluu."
Priced at Rs. 6,000 the book will be available from December 16.