University of Ruhuna enters into MOU with YSU
By Nathan Myers Ph.D
Associate Provost
International and Global Initiatives
Youngstown State University, Ohio, USA
The University of Ruhuna (UoR) recently entered into a MOU with Youngstown State University (YSU) Ohio, USA to collaborate in many areas related to higher education including graduate transfer scheme for higher studies, faculty exchanges, research collaborations and development of curricula for new degree programs with credit transfer schemes commencing from January 2023.
It will commence with transfer of MSc candidates in Science, Technology, Engineering and Mathematics (STEM) based areas after completion of 9 credits at Ruhuna, to complete the balance and to graduate with a MSc from YSU thereby becoming eligible to work for 3 years on Optional Practical Training (OPT) at American industries (both government and private) registered with YSU.
According to current rates, it may cost around US$ 12K per year for an international (single) student to live in the state of Ohio. pon arrival, every international graduate student would be permitted to work part-time outside the campus on Curricular Practical Training (CPT) for maximum 20 hours per week during semesters and 40 hours during extended holidays and the current minimum wages per hour is US$ 18.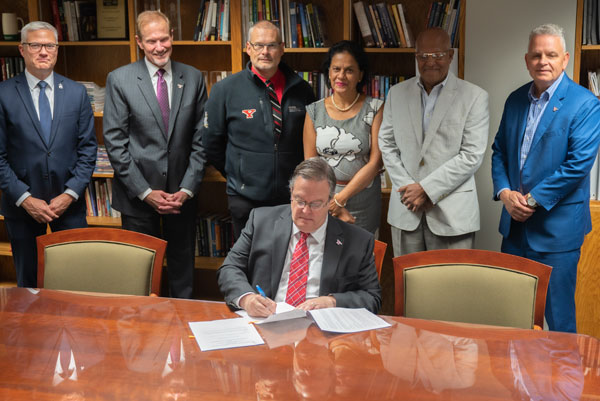 Dr. Brien Smith Provost YSU signs the MOU with Ruhuna watched by (L-R) Dr. Nathan Myers Associate Provost International Initiatives, Dr. Mike Sherman Vice President for Institutional Effectiveness, Dr. Wim Steelant Dean STEM College, Priyanthi & Dissa and Dr. Sal Sanders Dean College of Graduate Studies

Any US employer satisfied with an employee on OPT may choose to sponsor him or her for permanent employment under H1-B visa category.

I feel this is the best way a US university could help young SL academics in the current context. YSU has one of the most affordable tuition fees across the Nation and living costs at Youngstown is one of the lowest in Ohio. I agree that the recent economic meltdown in Sri Lanka has pushed the parity rates through the roof and that's why we have invited the NDB Bank of Sri Lanka to arrange for easily accessible student loans so that candidates from average middle class families wouldn't be left behind. I think the best any country could do to Sri Lanka is to arm its youth with a globally marketable education coupled with hands on work experience and send them back to their tropical heaven to rebuild in double quick time.

The Sri Lankan students we have had in the past at YSU on average are brilliant academics, totally committed and focused, hard working, respectful, cheerful and industrious. All what they needed was a level playing field and they took off like rockets. They have an insatiable hunger for success and here in US, they find the perfect environment for infinite growth.

Professor Sujeewa Amarasena, Vice Chancellor UoR speaking at the signing ceremony of the MOU said; "From day one I have realized how much Ruhuna can benefit from the proposed collaboration. Our focal point right now is the MSc in STEM areas where Ruhuna transferees would stand to be awarded two degrees-ours and theirs. Then they would spend three years gaining hands on working experience at world recognized industries earning serious money. At the end they could all enter one of the 1,500 universities granting PhDs. Sri Lanka would stand to gain so much with so many returning PhDs with priceless experiences who could enrich our university system beyond anything we have experienced".

"To Ruhuna this would be only the stepping stone. I am already discussing many other possibilities which could result in Ruhuna becoming the foremost public university for any Lankan seeking to become a global professional in the shortest and the clearest way. Let's first take a look at YSU's MSc program. This isn't the first time Sri Lankan academics have gone overseas for grad education. But those invariably were either the first classes or second uppers. Here, the minimum GPA score is 2.7 thereby including hundreds more, if not thousands. We can't leave anyone behind just because his or her parents happens to be labourers" he added.

"Just a few weeks ago Ambassador Julie Chang visited Ruhuna where I intimated to her about the impending collaboration. She was thrilled and said that timing couldn't have been better. I agreed. It was in 1893 Srimath Anagarika Dharmapala returning from World's Congress of Religions held in Chicago, declared that there's no other education anywhere in the world to match US college education-especially the liberal arts education- which is superior to every other education system. This is very true even today as US holds its unassailable position among the best universities in the world by any evaluation. So we plan to team up with the best in the world and follow the example of India who provided all the encouragement for its young academics to learn from the best universities few decades back and now handsomely reap its benefits" the vice chancellor observed.

This initiative was facilitated by "Scholarships for USA" run by Priyanthi and Padmasena Dissanayake who since 2001 have placed over 300 academics in US. Running a boutique operation from a home-office their mission is to make US higher education affordable and accessible to average middle class families of SL. To them collaborations between US & SL universities is a vital part of its foundation and this happens to be the 15th such collaboration initiated by them. Commenting on Scholarships for USA Dr. Nate Myers added that he has known Priyanthi and Dissa for over 15 years. "The students they have introduced to me were nothing short of brilliant.
Comments
Still No Comments Posted.