It was a Mercantile Rugby Sevens game between Lake House and Colombo Commercial Company (CCC) in the 70s. Lake House was captained by Chandi Asirwatham, the former S. Thomas' and Havelocks winger. We were to meet CCC at Longdon Place. CCC was simply bursting at the seams with talented and skilful players.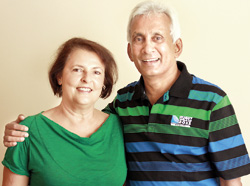 C.H. Seneviratne with his wife Hemali
The name of C.H. Seneviratne, Sri Lanka 'Hooker' extraordinary led the CCC Sevens list. 'CH' had made a name for himself as a player of great repute. He came from Trinity, Havelocks and a host of other rugby teams not to mention the National side. His pet position was that of a hooker. I still remember him practising his 'hooking' dedicatedly at the Asgiriya Grounds in Kandy.
To get back to that particular CCC-Lake House 'Sevens' game, the ball came my way and before I could hold on to it a hand, sturdy as steel, came from nowhere and thrust me to the ground. As if in a haze and through all that pain I knew that shove was from 'CH'. No wonder he is so strong, I wondered even at that time. I thought that I would never be able to get up.
But I did get up. An excruciating pain shot down the left side of my spine. Despite the pain I trotted back to continue the game but I was only a passenger. CCC simply thrashed us and I hobbled out holding on to my back. No amount of medicines, massages or doctors over the years could cure me. I am still dogged by that pain.
It was in that backdrop that I was informed by Jayantha Jayawardena, the Trinity skipper and Rugby Lion of 1959 that CH was back in Colombo. CH is now settled down in Darwin, Australia and pays occasional trips to Sri Lanka to maintain his links with the country of his birth. It was also rugby that paved the way for his marriage with Hemali, the sister of his friend and schoolmate Kumar Abeywardena, also a rugby player, better known for his rugby connections with Ruhuna, the Southern Region. Kumar owns the tourist hotel Closenberg in Galle.
"It is great to be back in Sri Lanka", said CH. "It has been almost five years since my wife Hemali and I visited Sri Lanka last. Since the end of the war, the country seems to have developed a lot. All that we hope for is that peace will bring prosperity for all Sri Lankans!" He said in greeting.
"Since almost from the time we married (December 1972), we have been living overseas – intermittently being in Sri Lanka. We have three grown up sons – Aruna, our eldest son, who is an Engineer, is married to Emily and they have a baby daughter Clara, our first grandchild. They live in Melbourne, Australia. Gayan, our middle son is a chef and a horticulturalist and he lives with us in Darwin, Australia. Our youngest son Dumendra, who is an Accountant, is married to Fiona and they live in Perth. Sadly none of the boys played rugby!
Continuing CH said, "I am really impressed with Kumar Abeyewardene's contribution to Ruhunu rugby. I know that he spent a lot of money and time developing the game there encouraging young players, who would not have otherwise the opportunity to play the game. We spent time with Kumar at Christmas in his hotel, Closenberg, and we were treated royally by Kumar, his son Emanuel and the staff there. It was good to catch up with Kamal (Hemali's other brother) and his partner Leony, Kamal's daughter Kristen and her boyfriend Craig – all from Canada.
"I have a great job in Darwin - working as the Chief Financial Officer for Bawinanga Aboriginal Corporation, one of the most successful Indigenous Corporations in Australia. Hemali is working at the Charles Darwin University in Darwin. She has been there for the last 21 years!
"I am still very much involved with rugby in Australia. I am an Australian Rugby Union (ARU) Level 3 Referee Coach and have been helping referees to manage the game since the mid nineties. I take real pleasure in mentoring young referees as it is something which I believe is very important and something that I never had when I was refereeing. When I get back to Darwin after this holiday in a few weeks time, I will be part of the team that will coach referees participating in the World's Hottest 7s in Darwin. This is an International tournament (since about 1999) and we have many referees from all over Australia who will be refereeing. I have been the President of the Northern Territory Rugby Referees Association (NTRRA) for about 7 years till 2007 and I was honoured to be elected a Honourary Life Member of the NTRRA in 2007.
Australian rugby is very strong – as you know currently we are ranked number two in the world. The performance of the Walabies however was very disappointing in the last World Cup. They just threw away that game against Ireland but played brilliantly to beat South Africa in the Quarter Finals – sadly not good enough to beat the All Blacks in the semis. I felt sorry for the French who played so well in the final against the All Blacks – but I must say that the All Blacks were deserved-winners of the trophy.
"I am told that all is not well with rugby in Sri Lanka. If this is true, it is distressing. When we left Sri Lanka in 1973, the administration of the game here was very strong and I hope we get back to that type of code-management very soon. On the other hand, I am pleased to hear that in my old school Trinity, rugby is going from strength to strength. This is good news.
"Sadly this holiday in Sri Lanka is too short to meet and greet all the people that we would love to meet. Soon after we arrived in Sri Lanka this time, we were privileged to meet old friends both at the Havelocks and the CR&FC. It was good to catch up with old rugby mates Tony de Sylva and his wife Nan, Thiru (Thiruchittampalam) and his wife Krish, Summa Navaratnam and Romaine. It was also good to meet Anton Benedict, Harry Rasiah, Paul and Priya Fernando, Malik Samarawickrama, Manick Pereira, Ifthikar Cadar, U.L. Kalu (Kaluaratchchi), Killie Pullendran.
"The other night Hemali and I were invited to dinner by our very good friends Christine and Jayantha Jayawardene, where we met YC Chang, Gamini Fernando and his wife Helen, Jayantissa Ratwatte and his wife Manel, Thikshana Madugalle and his wife Seetha, Sarath Zoysa and his wife Mourifa. It was indeed a lovely evening and we all had a good laugh about things past and present!
"It would be sad to leave Sri Lanka at the end of this holiday but we hope we can come back to enjoy the warmth of Sri Lankan hospitality very soon," said CH.
"Also a few days ago, Hemali and I were invited by Sarath and Mourifa Zoysa to dinner where we once again met with Jayantha and Christine Jayewardene. We also met with Monty Holsinger and his wife Wendy Whatmore and Gihan and Janice Zoysa. The other visitors that evening were John Boyd-Moss and his wife Anna and Michael de Alwis and his wife Anthea. The evening was unusual in that there were three hookers - John, Michael and myself who played in the same era!