The Queen of the Sri Lankan silver screen, Malini Fonseka was once again honored internationally at the International Film Festival of India (IFFI) last week.
Malini was awarded the prestigious Silver Peacock for her performance as forgotten film star Sandhya Rani in Prasanna Vithanage's 'Akasa Kusum' (Flowers in the Sky). The internationally acclaimed actress was also felicitated with a Special Jury Award at the 39th IFFI held in Goa for her four-decade career in the cinema industry.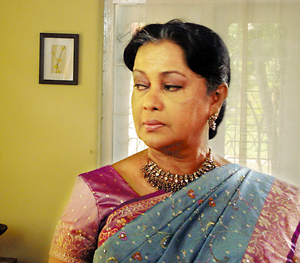 Malani in 'Akasa Kusum'
'Akasa Kusum' had its World Premiere at 13th Pusan International Film Festival (PIFF) in Pusan, South Korea last October. The film is slated for international screenings at festivals in Palm Springs and Tiburon in the United States, Granada in Spain and the Brisbane International Film Festival in Australia.
"Akasa Kusurn" tells the story of faded actress Sandhya Rani (played by Malini Fonseka), who is suddenly thrust into the media spotlight when she is embroiled in a minor scandal.
Sandiya Rani, a former star, makes a living by providing a secret place for celebrity couples. One day a scandal is leaked out from her house, but surprisingly the public pays more attention to Rani. And thanks to that, she begins acting again. Meanwhile, Priya, the secret daughter of Rani, who works in a Karaoke bar, is infected with HIV, and gets pregnant. She calls Rani, but refuses to see her when Rani comes to see her. Rani finds a way to help her daughter, whom she abandoned a long time ago to become a huge star.
However Priya lets go of any hatred she once had toward her mother, and tries to understand every circumstance. She gives birth with a strong will not to repeat her mother's mistakes. Others in the stellar cast include Nimmi Harasgama, Dilhani Ekanayake, Kaushalya Fernando, Samanalee Fonseka and Jayani Senanayake.
The film was produced by H. D. Premasiri for Sarasavi Cineru and A. Sreekar Prasad for Film Freaks.
Director of photography is M. D. Mahindapala and production designers are Sujeewa Paranahewa and Shermila Fernando. Edited by Sreekar Prasad, the music director is Lakshman Joseph De Saram.
'Akasa Kusum' is scheduled to be released in Sri Lankan theatres in early 2009.