Sports
---
Bugged Kiwis purged!
By Aubrey Kuruppu reporting from Galle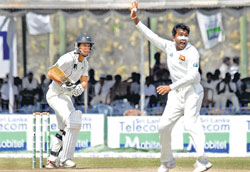 Mahela Jayawardena breaks the vigil of Ross Taylor - Pic by Sanka Vidanagama

As expected, Sri Lanka registered a quite a massive 202 run win over New Zealand at the Galle International Stadium twenty minutes before tea on day five to go one up in the two match series.

The magnificent batting of Dilshan, Jayawardena and Samaraweera stood out in this victory and it could be said that for once, the bowlers had to take a back seat. The huge total was obviously beyond the reach of the Kiwis, most of whom were afflicted with a stomach bug which laid four of them low yesterday. In consequence the batting order had to be changed, with Ryder and McCullum coming in as late as numbers seven and eight.

Sangakkara opted for pace at both ends to start off day five. Kulasekera's skidding deliveries were mostly off target. But Thilan Thushara was a very different proposition. He had pace, movement and lift, and looked the more likely wicket-taker. So it proved when he bowled a near unplayable ball to Guptill who was mesmerized by one that came in and then straightened up - two runs later, he moved one away from the left hander McIntosh and the edge was well snapped by a diving Samaraweera at third slip. McIntosh, stayed on, the umpires put the decision 'upstairs.'

Taylor was quietness personified and one waited in vain for his elegant, attractive stroke-play. Former skipper Jayawardena showed he had a golden arm when given the ball by his successor. His second ball, a harmless one down the leg side, brought forth a wicket when Taylor pushed at it and seemed to get an edge. The score was 45 for 5 and the Kiwis were going down hill speedily.

Oram and Vettori resorted to very sensible methods to add 41 for the fifth wicket. The sweep was most in evidence as both batsmen used it to counter the dreaded Muralitharan. Mendis' lack of turn and pace off the pitch did the trick, as Oram swept once too often and missed a delivery that started on leg stump and continued that way.

Ryder joined his skipper at 86 for 5 off the field the whole of yesterday, Ryder looked a bit drained and chose not to exert himself too much. However, two gifts from Mendis could not be ignored and he stroked them easily for boundaries through mid off and mid wicket. Lunch was taken at 126 for 5 with Vettori on 42 and Ryder 22.

Ryder had added two to his lunch time score when he played forward to Muralitharan and was caught behind. This was the off spinner's first victim and the sixth of the innings. In this was a sign that Sri Lanka's dependence on him is less now than what it was!

New Zealand skipper Vettori reached a capital half century in 94 balls. Having got there, he seemed to celebrate by pulling Thushara for two successive fours off short-pitched deliveries.

This was a fine example of defiance in defeat from a player whose stronger suit is his bowling.
Vettori's 67 was his Test best against Sri Lanka. His end came when he missed a fine delivery from Mendis and nicked it to the wicket-keeper. The Sri Lankans celebrated the fall of that wicket with a great deal of glee, because they realized that the door was now ajar. It was sweet music to Mendis' ears, as he had toiled for a little reward up to that point.

McCullum in tandem with Patel kept the board moving. The former pulled Muralitharan violently for six and followed up with a swept boundary in the same over. Patel chipped in with two sweetly-timed fours through extra cover in a Mendis over.

The good times didn't last however. 37 had been added when Patel, outwitted by the master bowler's doosra, was smartly stumped. This was Jayawardena's fourth scalp in a good, though not blemishless, display behind the stumps.

O'Brien barely troubled the scorers, and McCallum intended forming the strike in an effort to provide more entertainment. He played to mid off, started late and was brilliantly thrown out by Muralitharan.

Scoreboard
Sri Lanka First Innings 452
New Zealand First Innings 299
Sri Lanka Second Innings 259 for 4 dec.
New Zealand Second Innings 30 for 1 contd.
M. Guptil b Thushara 18
(Perfect delivery: Moved in and straightened
to hit off stump)
R. Taylor c P. Jayawardena b M. Jayawardena 16
T. McIntosh c Samaraweera b Thushara 0
J. Oram lbw b Mendis 21
Swept straight ball on leg stump and missed)D.Vettori c P. Jayawardena b Muralitharan 24
(Pushed forward, bat in advance off pad and edged)
J. Ryder c P. Jayawardena b Muralitharan 24
B. McCullum run out 29
(Started late - brilliantly thrown out from mid off)
J. Patel st. P. Jayawardena b Muralitharan 22
Beaten by doosra, dragged back foot over line)
I. O'Brien c Paranavithana b Muralitharan 5
(Bat-pad catch to lunging silly point)
C. Martin not out 0
Extras (No balls 3, Byes 4, Leg byes 1) 8
Fall of Wickets - 1, 37, 39, 45, 86, 134, 167, 204,210, 210.
Bowling: N. Kulasekera 8-2-20-1, T. Thushara 14-3-37-2, A. Mendis 18.5-4-50-2, Muralitharan 27-4-88-3, M. Jayawardena 4-1-10-1.
|
E-mail
|
views[

1

]