Sports
---
Understanding the stroke s mechanics of swimming

Jan Prins' interest currently lies in the development of high-speed underwater digital motion analysis
By Natasha Fernandopulle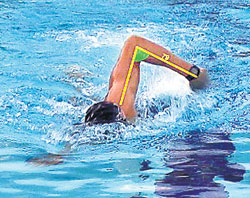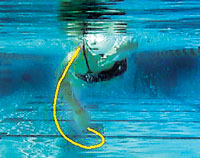 The science of bio-mechanics applied to freestyle.

The physics of sports can be called sports biomechanics in that it is a quantitative based study and analysis of professional athletes and sports activities. This may seem like a whole bunch of big words, but it is actually not all complicated. This week my focus is on understanding swimming stroke mechanics.

Possibly one of the best persons to explain this subject is Jan Prins, Associate Professor, Director, Aquatic Research Laboratory and University of Hawaii's. I had the chance to have a chat with him to understand the subject better while he was in Sri Lanka.

"Just like golf, tennis and cricket swimming too is a learnt skill," Jan Prins explained adding, "Being a learnt skill, you can't teach yourself so you need some external input therefore a coach will give you subjective feedback and this is based on their expertise." He went on to stress that it's important to increase the awareness of swimming stroke mechanics.
"Upon getting the necessary input from your coach the next step is to actually see what swimmers do therefore what is best is to observe the stroke mechanics of great swimmers". Mr. Prins said that in terms of footage, the Beijing Olympics had been unprecedented and he had recorded every single event while he has made the necessary computer enhancements to help aspiring swimmers improve their technique.

Another important step in this system of improving one's swimming stroke mechanics is for somebody to video you - both above and under water and then analyze yourself. And Mr. Prins does exactly this at his video workshops where it is the best way to improve yourself as you can slow down and freeze your movement. A system which is used to help one understand one's movements more clearly is the marking of segments and trails and high speed. Underwater, digital filming is required for this process. Currently Mr. Prins' interest lies in the development of high-speed underwater digital motion analysis, which he says is important for aspiring swimmers.

Prins was the founder of the University of Hawaii's Aquatics Research Laboratory and is currently on the Faculty in the Department of Kinesiology where he continues to improve the study of motion, anatomy and physics in swimming which has in fact been around for the past 25 years.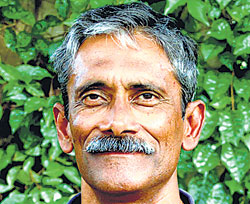 Jan Prins


Personal coaching is also one of his fortes and Prins has been a swimming coach for 35 years. He described the time when he was the assistant to the legendary James Edward "Doc" Counsilman at the Indiana University, as an "incredible experience." Dr. Counsilman coached the legendary Mark Spitz as well as Jim Montgomery.

"I had a wonderful experience," Mr. Prins said of the time he assisted Dr. Counsilman in helping coach, Jim Montgomery.

Prins was the Olympic Coach in 1984 and the coach for the 1986 Asian Games for Sri Lanka where he trained and accompanied Julian Bolling. "I took Julian to the Olympics," Prins said adding, "The standard here in Sri Lanka has improved because of people like Julian as he is probably the most knowledgeable coach," adding: "Being the most famous swimmer in Sri Lanka has helped him help other aspiring swimmers."

"My recent experience showed the need for more coaches in Sri Lanka to increase their awareness in the scientific method," Prins says, adding "I view myself as resource," and goes on to explain that swimming coaches in Sri Lanka must avail themselves of the opportunity to learn more things.

While he was in Sri Lanka he conducted video workshops on swimming biomechanics and said that coaches from Kandy and Polonnaruwa sat in on them. "Swimming in Sri Lanka has come a long way," he said, adding "I think coaches have to go out of their way for it to keep on improving."

"I'm very proud of Julian because he doesn't hold back and gives them information," he says adding, "He goes to everybody."

"There are plenty of pools now in Sri Lanka," Prins said, adding, "Metaphorically, as the pool gets bigger there will be more swimmers and as a result, more potential."

During his tenure as the Head Men's Swimming Coach at the University of Hawaii, his teams were placed in the top 20 at the NCAA Division I Championships and in the top ten in the USS Senior Championships.

He is the former editor of the Journal of Swimming Research, while Prins has published articles on swimming in a number of journals including the Journal of Swimming Research, Swimming World & Swimming Technique Magazines, and the International Journal of Aquatic Research. His most recent article focuses on the biomechanics of selected topics relating to stroke mechanics and will appear in the upcoming issue of American Swimming.

Prins is Director of 'Swim Hawaii' which is a private swimming school that specializes in teaching children and adults, swimming stroke analysis and he works extensively with both competitive swim teams and tri-athletes.
|
E-mail
|
views[

1

]