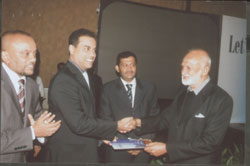 Kishu Gomez, CEO, Managing Director of Clatex Lubricants Lanka Ltd., (left) handing over his generous donation to Minister A.H.M. Fowzie (an Old Zahirian) on right. Also in the picture are Fouzul Hameed, Chairman Board of Governors and President of Old Boy's Association of Zahira College and Jifthy Fowmey, Chairman, Swimming Pool Project Committee.
The dawn of the much felt need of a swimming pool for Zahira College saw its light recently amidst a large and distinguished gathering at Hotel Hilton, Colombo.
It was an initiation by the old Boy's Association to raise funds for the project under the theme "Let's Pool". The gathering was well attended by heads of corporate, philanthropists of all communities, distinguished old boys, well wishers and media personnel.
Many old boys and well wishers pledged donations and contributions at the event. Mr. Manilal Fernando, Chairman of Holcim Lanka Ltd. donated the total requirement of cement for the project.

The swimming pool project will be an ultra modern international standard entity complete in a three storey building. The main pool will consist of eight lanes and will be 25 meters long and 16.6 meters wide. A beginner's pool of 15 meters long and 6 meters wide is also planned in this fabulous complex.
Access to this magnificent edifice will be from the Darley Road with a secondary entrance from the school. Ample parking space is available with the main parking area accommodating 24 vehicles. An innovative feature of this complex is the specially designed screen meant for female events. The beginner's pool will have a unique specially designed elemental roof.

When completed this will be a swimming complex that not only the college but all of Colombo can be proud to call their own.