Sports
---
Pakistan 'A' prevail to take 2-0 lead
By M. Shamil Amit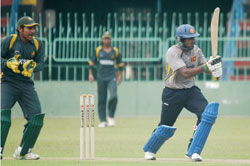 Lankan batsman Kapugedera in action at the R. Premadasa Stadium, yesterday. (Pic Ranjith Perera)

Pakistan 'A' coasted to the second successive win in the five match unofficial limited over series with a three wicket win in the match played at the R. Premadasa Stadium yesterday.

Pakistan 'A' chasing a modest score of 164 set by Sri Lanka 'A' reached the target with two balls to spare in a rain curtailed match which was reduced to 30 overs.
Earlier in the day the local side would have been in a bigger mess if not for the invaluable knock of 53 off 57 balls by Chamara Kapugedera who saved them from embarrassment.

This was after the Sri Lankans being invited to take first lease of the wicket were made to struggle for runs by the left arm bowlers Mohammed Talha, Wahab Riaz and Abdur Rehman.

It was an inauspicious start for the home team with two Sri Lanka hopefuls Mahela Udawatte who was the first to be dismissed and Upul Tharanga back in the pavilion with the scoreboard reading just eight runs.

Pakistan skipper Faisal Iqbal's decision proved fruitful with the dismissal of the two openers which was followed by four more wickets as Sri Lanka 'A' slumped from 83 for 3 to 83 for 6 losing three crucial wickets.

It was from here that Kapugedera came to the rescue as he put on a 41 stand for the seventh wicket with Farveez Maharoof. Kapugedera's dismissal saw Maharoof add another 30 runs with Dhammika Prasad for the eighth wicket which according to circumstances was invaluable for the team.

The Sri Lanka tail failed to make any impression which ultimately saw them being restricted to 163. Talha and Rehman shared six wickets between them while Riaz was responsible for two scalps.

The Pakistanis in their run chase though did not have any big contributions coming from their batsmen were under firm control of the game. There were some useful partnerships though small which was sufficient enough for the visitors to fulfil their desire of winning the match.

Scoreboard
Sri Lanka 'A' innings
Upul Tharanga c Rehman b Talha 01
Mahela Udawatte b Arif 00
Jehan Mubarak c Riaz b Talha 10
Chamara Kapugedera c Arif b Rehman 53
Kaushal Silva run out 19
Gihan Rupasinghe c Ahmed b Rehman 00
Kaushal Lokuarachchi c Ahmed b Rehman 00
Farveez Maharoof b Riaz 47
Dhammika Prasad c Ahamed b Talha 13
Thisara Perera c Amin b Riaz 00
Isuru Udana not out 05
Extras (b2, lb5, nb3, wd5) 15
Total (all out in 29.4 overs) 163
Fall – 1-2, 2-8, 3-40, 4-83, 5-83, 6-83, 7-124, 8-154, 9-154
Bowling – Mohammed Talha 5.4-0-28-3, Naved Arif 6-0-36-1, Wahab Riaz 6-0-31-2, Ahmed Shehzad 6-0-34-0, Abdur Rehman 6-0-27-3.
Pakistan 'A' innings
Umar Amin c and b Maharoof 8
Khalid Latif c Udawatte b Perera 22
Ahmed Shehzad c Prasad b Kapugedera 39
Fahad Iqbal b Udana 47
Faisal Iqbal c Perera b Maharoof 15
Sheharyar Ghani c Udawatte b Udana 3
Sarfraz Ahmed not out 20
Mohammed Talha run out 1
Abdur Rehman not out 1
Extras (lb4, wd7) 11
Total (for 7 wickets 29.2 overs ) 167
Fall – 1-11, 2-60, 3-79, 4-128, 5-139, 6-150, 7-152.
Bowling – Dhammika Prasad 5-0-28-0, Farveez Maharoof 4-0-26-2, Isuru Udana 5-0-24-2, Thisara Perera 4-0-23-1, Kaushal Lokuarachchi 6-0-26-0, Chamara Kapugedera 4-0-23-1, Jehan Mubarak 1-0-9-0, Gihan Rupasinghe 0.2-0-4-0.
|
E-mail
|
views[

1

]