Anup Vega, the modest artist from Kurunegala asked to describe himself responds with a hearty laugh saying "I'm an ordinary monkey from the village."
Not having studied art formally, Anup's talent has propelled him to prominence. Using whatever medium available he produces work that's poetic and has a sense of spirituality.
At the CAB Anup will be displaying some relevant pieces from his previous work 'Feeds and Flowers' along with a few new works and his first installation art, which symbolizes light. Corresponding with the theme "Imagining Peace', Anup sees this piece as "the bright side" -"it's how we are going to focus ourselves. It's how we are going to heal".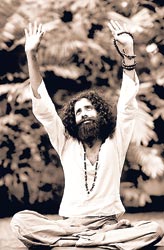 Anup Vega
"Peace can be found within ourselves and the world around us. It's in everyone's heart but at the same time we are filled with dust collected over time. We have to rediscover 'peace' within ourselves before we can surround ourselves with it," he says.
In stark contrast to Anup Vega, Anoma Wijewardena has studied art extensively having obtained her BA and MA at Central St Martin's College of Art, UK. She went on to lecture there and having exhibited in the UK, Australia, India, Malaysia, Singapore and Sri Lanka and won several awards, is a recognized name in art circles.
She is thrilled that the community of artists has come together to present this joint work on imagining peace. "Several of us, most notably Thenu (Chandragupta Thenuwara) and Jagath (Ravindra), have been working on this theme, but never before have so many artists been drawn together under this inspirational banner, and it could not have come at a more apposite moment."
Her installation for the Colombo Art Biennale pavilion is titled 'Phoenix' and combines mixed media works, digital and video art which include performance art, music and words in a series of installations which are separate and yet inextricably linked and interdependent; echoing the variety and interlinks of our nation's faiths and races, she says.
"The works explore in a variety of ways the perennial themes of isolation, fear, division and conflict; but most essentially it is an interactive work of renewal and healing. It is about taking individual and collective responsibility for the long and difficult path to the sustained peace and tranquility our country yearns for."
| | |
| --- | --- |
| | |
| Anoma Wijewardena | Prageeth Manohansa |
She adds, "I would like to touch, through art, if I can, those places in the human heart and conscience that are not yet calloused. Because each of us needs to find his own unique and particular way to dissolve the enmity and hatred that lingers, and that will surely re-ignite, unless we embrace tolerance, forgiveness and reconciliation."
Prageeth Manohansa, a sculptor who works chiefly with metal is enthusiastic about the Biennale as he feels the world should know of the abundance of talent in our country. While only a select few are able to reach a wide audience, events like this provide an opportunity for lesser known artists to gain much needed exposure, he says.
Peace finally boils down to the relationship between people. His work portrays his perspective of peace in the absence of a war.
With such diverse offerings from just three of the artists who will be at CAB, one can imagine what a feast awaits.