Today! All that Jazz!
On today, the Jazz at the Mount festival gives local jazz aficionados a chance to enjoy the sounds of some leading jazz musicians at the Mount Lavinia Hotel.
Two of Sri Lanka's most famous jazz exports, Jerome Speldewinde, a self-proclaimed 'Galkissa Kolla' who entertains audiences in Australia with his guitar and smooth vocals and Dylan Lye, a brilliant guitarist who moved to Hong Kong in the early eighties with the Jetliners will be in action.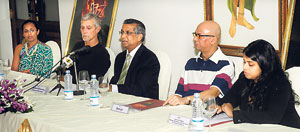 Thursday's news conference regarding the event
Then there's Hasan Musafer, a Sri Lankan born drummer and percussionist who plays in many countries, Manila born vocalist Jennifer Palor, and from Hong Kong -Anthony Fernandes, an Indian drummer, Tsang Tak Hong; a bass player and Adonis de Jesus, a pianist, arranger and composer.
Local bands Jazz Quartet, Funk Avenue, Divya, Kumar De Silva Trio, Jean Van Heer Quartet, Jazz Venture, and Musty's Band will also join the action. Jazz at the Mount is on today, October 25 at the Paradise Beach from 4 p.m. to 12 midnight. Day passes are priced at Rs. 800.
The main partners of this event are Jazz Unlimited and Mount Lavinia Hotel together with Sri Lankan Airlines as the official travel sponsor. The print sponsors are Wijeya Newspapers with MTV and Yes FM as electronic media sponsors.
SLRC: Providing housing and other benefits to tsunami-affected
Last week, 192 families living in Palawattei coastal area in Trincomalee who had been affected by the 2004 tsunami moved into new permanent houses in the Konesipura community housing scheme. The housing scheme initiated by the Sri Lanka Red Cross Society (SLRCS ) was built with financial support of nearly Rs. 300 million from the Japanese Red Cross.
The 192 new houses were handed over to the beneficiaries on October 11 by National Secretary of SLRCS S.H. Nimal Kumar. The National Secretary said that the SLRCS undertook a massive tsunami recovery programme with the support of several partner societies. The majority of the projects including housing, health, livelihood, water and sanitation programmes have been completed, the SLRC said.
So far the organization has completed and handed over more than 38, 000 houses.
The Sri Lanka Red Cross (SLRCS) launched its publication "Rebuilding Communities with Dedication and Professionalism" on September 22 at the Galle Face Hotel. The book documents the unique service to the nation by the Technical Support Services Unit (TSSU) of the SLRCS in the aftermath of the tsunami.
The TSSU had a specific mandate to provide long-term humanitarian assistance to those communities affected by the tsunami through a holistic approach. It covered the entire affected coastal belt of Sri Lanka, reaching 100,000 people - providing them with 30, 000 houses and 80 hospitals, in addition to infrastructure facilities such as roads, water supply and electrification schemes and social infrastructure, including pre-schools, community and health centres, and playgrounds.
He left a legacy of engineering know-how to Lanka and world
Eng. A.N.S. Kulasinghe
By Rohan Mathes
Deshabandu Vidyajyothi Dr. A.N.S. Kulasinghe born on October 26, 1919 to a middle-class family in Udammita, Ja-Ela, was not merely an engineer par excellence, but a scientist, technologist, teacher and mentor to many a Sri Lankan.
The secret of his success had predominantly been his positive attitude and 'can do' approach, blended with excellent communication skills and clear and logical thinking. A true sense of patriotism, love and compassion towards his fellow men, pragmatism and uncompromising moral standards among others, were his other traits.
He lost his mother at the tender age of four years. Having had his secondary education at Maris Stella College Negombo and at St. Benedict's College Colombo, he entered the Ceylon Technical College to pursue a B.Sc. Engineering (London) course.
His unparalleled engineering career and service to the nation which spanned over 65 years, began in 1940, when he joined the Ceylon Hydro-Electric Scheme, Norton Bridge, as a technical assistant to the Chief Resident Engineer. Thereafter, he held many prestigious positions as the Founder Chairman and General Manager of the State Engineering Corporation of Sri Lanka (1962-1971), Chairman of the National Science Council (1968), General Research and Committee of Sri Lanka (1969), National Engineering Research and Development Centre (1978), Central Engineering Consultancy Bureau (1978), and Bureau of Standards (1978).
He was Commissioner of the Colombo Port Commission (1968) and the Inventors Commission of Sri Lanka (1981). Among his invaluable contributions in the sphere of engineering, was his active engagement and service in the Wimalasurendra Power Station, the Accelerated Mahaweli Project as the Chairman of the CECB, the Planetarium, the Kalutara Chaithyaya, the Port Chaithyaya, the Kotmale Seya, the SEC Head Office, the Labour Secretariat, the Cement Corporation, the Steel Corporation etc.
He was aptly called the ˜Father of Sri Lankan Engineering', for his yeoman services in engineering with inventions and innovations that revolutionized the construction industry by the introduction of a variety of cost cutting measures. His numerous innovations in the field of pre-cast and pre-stressed concrete were unique.
He had many skills in music too, playing the sitar and the tabla. Dr. Kulasinghe was conferred national honours on two occasions. The University of Peradeniya also conferred an Honorary Doctor of Science (DSc) degree on him.
He passed away at the age of 86 years, on February 14, 2005, leaving a legacy of engineering know-how to Sri Lanka and the world at large.
In-depth on-line diploma programmes on Buddhist Studies, English through Buddhism
By Urmila Bodinagoda
The first of its kind from Sri Lanka, two in-depth on-line diploma programmes on Buddhist Studies and English through Buddhism will be available to all from November 1.
A joint effort by the Ministry of Higher Education and Damrivi Foundation, under the Distance Education Modernization Programme of the Ministry, a sample site for all to try out free of charge is now available at their website 'http.//damrivi.nodes.lk '. Moulded on lines easily on par with other international teaching sites, the site has links to many resources - dictionaries, Tipitaka , web sites, etc.
A non profit organization of academics and professionals for social economic and spiritual development through Buddhist insights, the Damrivi Foundation is accredited by the Tertiary and Vocational Education Commission of Sri Lanka (TVEC).
The flyer for the programmes is controversial enough to attract attention. It is a call, to those who wish to learn Buddhism systematically and in depth, Buddhist social workers and Buddhist monks and nuns and also, professionals and students. Apart from this, it is also a call to clergy of other religions!
Prof. Asanga Tilakaratne, (Ph.D) Professor of Buddhist Studies, University of Colombo and Chairman, Damrivi Foundation is course director for both programmes.
The course coordinator is Yuki Sirimane (Ph.D) / Director Operations - Damrivi. Lecturers for the Buddhist Studies programme include Professor Oliver Abeynaieka (Ph.D ) (formerly Postgraduate Institute, Pali and Buddhist Studies, University of Kelaniya) , Professor P.D. Premasiri ( Ph.D) ( formerly Head Buddhist Studies Department - Peradeniya Uni ) and Prof. Asanga Tilakaratne.
The programme on English through Buddhism is conducted by English lecturers from leading Colombo Universities. Both programmes can be accessed easily from home by all those who have ADSL connections. For others the Government has set up NODES Centres which would be free of charge upon registering with the course.
The English programme covers contemporary issues including the environment, gender, love, marriage, IT, TV and cinema, globalization and health with the Buddhist viewpoint. The Introduction to Literature course includes English literature, Commonwealth literature, and genres such as novels, short stories, poetry, drama, folklore and folktales in addition to Buddhist literature.
The programme on Buddhist studies has a course on Social Thought which discusses the economic, political and social aspects of the Buddhist philosophy. The course on Buddhist Ethics will enable a learner to determine the possible Buddhist responses to some of the hotly debated ethical issues of today. The Diploma in Buddhist Studies consists of five courses i.e. Introduction to Buddhism, Basic Teachings of the Buddha, Buddhist Social Thought, Buddhist Ethics and Mind Culture.
The Diploma in English through Buddhism consists of Grammar and Style, Reading and Writing, Listening and Speech, Introduction to Literature and Contemporary topics.
A diploma certificate will be awarded after an examination at the end of two years. Registrations close on October 27.
Sabry wins HSBC JCI TOYP 2009 award
Well known civil lawyer and Treasurer of the Bar Association of Sri Lanka, M.U.M. Ali Sabry was recently awarded the HSBC JCI TOYP 2009 (The Ten Young Outstanding Persons 2009) award for legal accomplishment.
Mr. Sabry, an old boy of Kalutara Muslim Maha Vidyalaya and Zahira College, Colombo enjoys a successful practice in the appellate courts.
He is the son of late Mr. M.S.M. Uvais and Mrs. Zareena Uvais of 'Mudliya Villa', Katukurunda, Kalutara.
UNP provincial councillor at Int'l forum
UNP provincial councillor of the Uva PC, Harin Fernando represented Sri Lanka at the International Democrat Union's Young Leaders Forum in the USA this week.
Mr. Fernando was selected by the UNP to attend the prestigious event held from October 18-21 in Washington D.C ,which is a forum where young elected representatives and aspiring young leaders share their experiences and views and listen to high level speakers.
He was elected to the Uva PC earlier this year.
Annual Olcott oration
The annual Olcott oration organised by the Ananda College OBA will be held at the Kularatne auditorium, Ananda College on Saturday, November 14 at 4.45 p.m. Secretary, Ministry of Defence Gotabhaya Rajapaksa, a distinguished old boy of the college will deliver the oration.
All old Anandians interested in attending should contact Thilak Karunaratne, Deputy President, OBA and Chairman of the Organizing Committee on or before October 30 for invitations, on email thilaka@multichem.com or fax 011-4524934. Admission will be strictly by invitation.
Hills come alive with Y's Men Sing Along
The Y's Men's Club of Mahanuwara has organised a "Sing Along" at the Hotel Tourmaline, Kandy on Saturday, November 7 from 7 p.m. onwards with the Hezonites in attendance. This second "Sing Along" of vintage songs, in banquet style, is by popular demand of the people in the hill capital. The first "Sing Along" held last year was a resounding success.
The Y's Men's Club of Mahanuwara is an affiliate of the Y's Men's International, a service club in partnership with the YMCA and has consultative status with the Economic and Social Council of the United Nations.
This event by the Mahanuwara branch club is a fund-raiser for its social service projects.
Admission to the "Sing Along" is by the purchase of a song book (Rs.500), containing a large number of oldies and popular songs in English and Sinhala.
For further information contact Keerthi (081 2232177) or Rubita (081 2222566).
Ja-Ela new Church
The new church of the Assembly of God, Ja-Ela will be declared open on October 30 at 6 p.m. at the Calvary Centre. The massive building has a seating capacity of 6,500.