The Colombo share market will see a new sector – salt – making waves – when Raigam Wayamba Saltern Ltd, a subsidiary of the Raigam Group, goes public this quarter.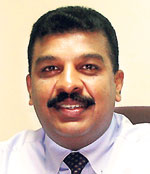 Dr. Ravi Liyanage
Dr. Ravi Liyanage, Chairman/CEO Raigam Group, told the Business Times that Raigam Wayamba Saltern Ltd (RWSL) which has two subsidiary firms – Raigam Eastern Salt Ltd (RESL) and the Southern Salt Company Ltd (SSCL) - will list early (in the stockmarket) this year. "The process is in place," he said, but didn't disclose how much the company plans to raise. The money will be used for future expansion. The Group, whose annual turnover exceeds Rs. 2 billion, has food-based, cosmetics and advertising sectors.
Dr. Liyanage said that Raigam is the only private sector salt operator in the country, which also set up the first ever private salt refinery four years ago. "In 2007, one third of the country's table salt requirement, which is 40,000 metric tones (mt) was imported. This was mainly due to the difficulty in manufacturing salt at that time," he noted. Salt is only manufactured in the dry zone (northern) coastal areas, most of which were occupied by the LTTE at the time. "Also the weather patterns changed after the tsunami in 2004, as such there was a drop in salt manufacturing," Dr. Liyanage explained, adding that this was the primary reason for the company to see the potential in the business and led to launching RWSL in Puttalam.
"Although we have this refinery to manufacture table salt, Raigam needs raw material- that is crystal salt to make the table salt. As such we have applied for 400 acres of state land in Wanathavilluwa in Puttalam where there is crystal salt, to set up a saltern to meet the potential demand," he said.