Sri Lanka's growth rate should be close to 10% by 2012, according to Sarath Amunugama, Minister of Public Administration and Home Affairs and the Deputy Minister of Finance and Planning. In an interview with the Business Times this week, he however said infrastructure development is a pre-condition for growth. "Huge investments have been made in infrastructure development over the past four years," he said, in terms of airports, highways and harbors that have been constructed and ongoing development projects.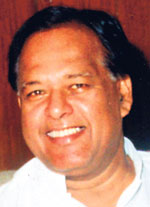 Sarath Amunugama
Dr. Amunugama said there also needs to be enhancement of manpower institutions and that people should be encouraged to seek jobs and work abroad. "The private sector has to open up and expand fast and most importantly, there has to be a stable government. With the end of the war, Sri Lanka's growth is unstoppable."
Sri Lankan companies should be aiming towards becoming regional giants. "Companies cannot only operate in the local market," he said. "They have to go to India and the rest of Asia for growth."
He added that the government's new policy initiatives will stimulate investment and expansion of local companies as Sri Lanka already has the skills and manpower.
"We need to encourage companies to go abroad and also hire Sri Lankans because it is not possible for any government to mop up the total labor strength," Dr. Amunugama said. "There were 525,000 students who sat for their O'Levels and 225,000 who sat for their A'Levels but only 17,000 went to universities. They need jobs. We should be encouraging companies to go abroad and hire our people."
In the tourism sector, Dr. Amunugama said blue chip companies such as John Keells Holdings (JKH) and Aitken Spence have made up for losses in the Sri Lankan market by going to countries such as India and the Maldives. He said he believed the sub-region will attract a huge amount of tourists.