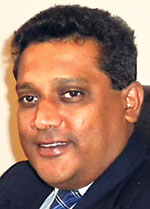 Dr. Thusitha Tennakoon
Dr. Thusitha Tennakoon assumed duties as the Secretary General of the Federation of Chambers of Commerce and Industry (FCCISL) this week after completing a stint of almost a decade (from July 2000 to Nov. 2009) as the Chief Executive Officer and the Director of Studies/Research of the Bandaranaike Centre for International Studies (BCIS), Colombo, Sri Lanka, the chamber announced. Dr. Tennakoon brings in a wealth of experience in bi-lateral and multi-lateral negotiations, international relations, conflict resolution and peace building, youth empowerment and academic training/research, to steer FCCISL to greater heights in the post conflict development arena.
In his previous official capacity he was the Secretary to the Council of Management of the BCIS, Finance & Management Committee and the Board of Academic Affairs. He also served as a member of the Editorial Board of the BCIS Journal titled 'International Relations in a Globalising World published by SAGE, New Delhi from 2003 to 2008. Dr. Tennakoon is the Founder Chairman of the Sri Lanka One-Text Initiative (2004 – 2007) & member of the Board of Directors (2008 – 2009), Founder member of the Board of Directors of the Info-Share (Guarantee) Ltd (2004-2005) and Founder member of the Board of Directors of the South Asia Peace Institute (2004 – 2006).
Meanwhile, Sam Stembo, who functioned as the Assistant Secretary General of FCCISL assumed duties as the National Project Director of the FCCISL CHEER Project, 2009/2013 (CHamber-network Engagement in Economic Rehabilitation).