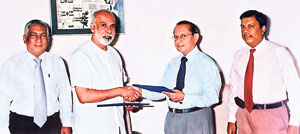 Picture shows --- Dr. Anura Ekanayake, CCC Chairman (left) and Asoka Gopallawa, NAC Chairman, exchanging the signed MOU, while Harin Malwatte, Secretary General/CEO -CCC and Rohitha Nanayakkara, Secretary - NAC look on.
The National Agribusiness Council (NAC) has received affiliated status with the Ceylon Chamber of Commerce and is now housed at the Ceylon Chamber of Commerce building at 50, Navam Mawatha, Colombo 2. The NAC, established in June 2000, continues the objectives initiated by the USAID funded Agro Enterprises Project (AgEnt). The NAC is driving the development of the National Agribusiness sector, according to a CCC statement.
NAC consist of 20 associations covering every sphere of agribusiness in the country. As the apex representative body for the sector, NAC's objectives encompass a wide range of services designed to make Sri Lanka's agribusiness sector competitive in the globalised market place.