It was a moment of glory and pride when the media fraternity gathered at the Empire Ballroom of the Mount Lavinia Hotel last Tuesday to celebrate the night of the scribes…
At this gala evening of the Journalism Awards for Excellence 2009 jointly organized by the Editor's Guild of Sri Lanka (TEGOSL) and the Sri Lanka Press Institute (SLPI), journalists from Sinhala, Tamil and English newspapers were felicitated.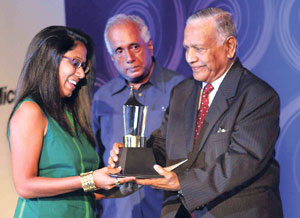 Journalist of the Year: Namini Wijedasa of Lakbimanews receives her award from the chief guest, C.G. Weeramantry, former Vice President of the International Court of Justice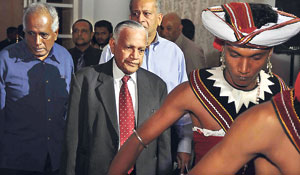 The chief guest being escorted to the venue
Consultant Editor and veteran journalist Iqbal Athas brought honour to the Sunday Times when he was awarded, by nomination of the Editors Guild, the D.R. Wijewardene Award for Earning the Appreciation of Peers and the Public.
The Sunday Times also bagged five more awards including the Scoop of the Year by the News desk; the B.A. Siriwardena Columnist of the Year (English) by Chandani Kirinde; Denzil Peiris Young Reporter of the Year (Merit) by Nadia Fazlulhaq, the Subramaniyam Chettiar Award for Reporting on Social Responsibility (Merit) by Chathuri Dissanayke; and the Photojournalist of the Year (Merit) by Sanka Vidanagama.
The panel of judges comprised Prof. Tissa Kariyawasam, Amal Jayasinghe, P Balasingham, Latheef Farook, B. Muralidhar Reddy, Vijita Fernando, Dharman Wickremaratne, Pramod de Silva, E.V. David Rajuh, Lalith Allahakoon, Shan Wijethunga, Annaluxmi Rajadurai and Merrill Perera.
While journalists came on stage to receive their trophies along with laptops gifted by Easy Personal Computers amidst the applause of their peers, there were also the recipients of the Lifetime Achievement Awards, Anandi Balasingham, Arthur U. Amarasena, Maruthappu Vallipuram Kaanamylnathan, M.S.M Mansoor and Srilal Kodikara who left the stage with golden shawl and flowers.
The Joint Organizing Committee of the journalism awards comprised Joint Chairmen Kumar Nadesan, SLPI Chairman and Express Newspapers Managing Director, and Manik de Silva, TEGOSL President and Sunday Island Editor and members Sundara Nihathamani de Mel, TEGOSL Secretary and Irida Lakbima Editor; V. Thanabalasingham, TEGOSL Treasurer and Thinakkural Editor; Siri Ranasinghe, TEGOSL committee member and Daily Lankadeepa Editor; Sharmini Boyle, Free Media Movement member, SLPI Director and Producer, Young Asia TV; Chulawansa Srilal, Free Media Movement Convener and SLPI Director; and Sukumar Rockwood, Convener of the Awards.
The Sunday Times

Scoop of the Year: Anthony David receives the award from Siri Ranasinghe, Editor-in-Chief, Lankadeepa

Columnist of the Year (English): Chandani Kirinde receives the award from Sujan Wijewardene, Executive Director, Wijeya Newspapers Ltd.

Young Reporter of the Year (Merit): Nadia Fazlulhaq receives the certificate from Gnanasiri Koththigoda, Vice President, Sri Lanka Working Journalists' Association
Reporting on Social Issues (Merit- English): Chathuri Dissanayake receives the certificate from Thilanga Sumathipala, Managing Director, Sumathi Group

Photojournalist of the Year (Merit): Sanka Vidanagama receives the certificate from Seetha Ranjani, Secretary, Free Media Movement.

D.R. Wijewardene Award: Iqbal Athas receives the main award from Kumar Nadesan, Managing Director, Express Newspapers and SLPI Chairman
Daily and Irida Lankadeepa

D.R. Wijewardene Award (Honourable Mention): Ajantha Agalakade (above) receives the certificate on behalf of Prasanna Jayasuriya and (below) Duminda Balasuriya receives the certificate from Mr. Nadesan.

Feature Writer (Merit-Sinhala): Sanjeewika Samaratunga receives the certificate from Mr. Ranasinghe
Daily FT

Finance Journalist (English): Cheranka Mendis receives the award from Mr. Sumathipala
Daily Mirror
D.R. Wijewardene (Honourable Mention): Sunil Jayasiri receives the certificate from Mr. Nadesan
Young Reporter of the Year (Merit): Dianne Silva receives the certificate from Mr. Koththigoda
Photojournalist of the Year: Samantha Perera receives the award from Ms. Ranjani
Sports Journalist of the Year: Channaka de Silva receives the award from Mr. Wijewardene
Lifetime achievement Awards
Anandi Balasingham receives her award from Jatila Wellabada, Editor, Daily Lakbima
M.S.M. Mansoor receives his award from A. Dombagahawatte, Editor, Irida Lankadeepa
M.V. Kaanamylnathan receives his award from Gamini Abeywardene, Editor, Nation
Srilal Kodikara receives his award from Gamini Sumanasekera, Editor, Irida Divaina

Arthur Amarasena being congratulated by Sundara Nihathamani, Editor, Sunday Lakbima