His wife and five daughters wailed, cried and begged for a miracle outside the Matara Hospital ward where he was…..their fervent prayer being that R. Nanayakkara's life would be saved.
He had arrived home feeling unwell. When his wife pleaded with him to go to the hospital he had brushed her off, only deciding to do so when excruciating pain in the chest left him gasping for breath. On the way to the hospital, he collapsed unconscious.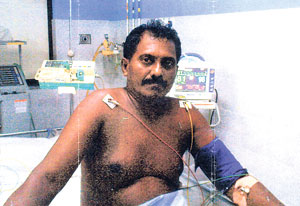 Nanayakkara recovering at the Matara Hospital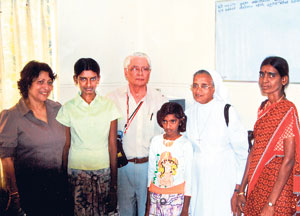 Dr. Quintus de Zylva with some patients
His wife, Jayaseeli's prayers were answered as vital cardiac equipment needed to save Nanayakkara who had suffered a heart attack, was available at the hospital . The Australian Sri Lanka Medical Aid Team (AuSLMAT) had donated the equipment only a couple of days before.
There was an added bonus for Nanayakkara for AuSLMAT was also physically present at the time he was admitted and assisted the hospital doctors to render a 200 kilo joule DC shock across his chest without anaesthesia with a defibrillator also donated by them to resuscitate him.
The team also provided funds to his family to see to his future health needs. AuSLMAT, a group of medical experts who work closely with Sri Lankan doctors and hospitals, provides medical equipment and supplies while also assisting in the skill development of medical personnel.
The team which visited Matara Hospital included Dr. Jennifer Johns, Dr. Kamala de Silva and her medical student daughter Malathi, Dr. G. U. de Silva, Dr. Jerome Ephraums, Events Coordinator Ranjini Dassenaike, James Coburn, Nalini Joseph, Una Jones and Dr. Quintus de Zylva.
They raised funds to provide the equipment to Matara Consultant Cardiologist Dr. Roshan Gunaratne, from their annual dinner-dance 'Eastern Elegance' held in October 2009.
AuSLMAT also visited the Karapitiya Teaching Hospital and assured the authorities that they will make emergency cardiac angiography available to patients there.