It was a relaxed and leisurely Sunday evening………family time spent at the Bolgoda Lake before the rush of the week began.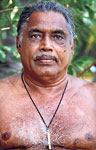 'Kadira'
They had been enjoying water- skiing near the Yacht Club for many years and July 18 was no different.
His 19-year-old son had just donned water-skis and jacket and was about to get into the water, when "something" told Huzaifa Abdulhusein to peer into the still waters of the lake near the Moratuwa bridge.
"There was a stealthy movement under water, like a log floating along," says Mr. Abdulhusein.As they watched more in amazement than horror, suddenly "it" surfaced and came out of the water.
A huge crocodile!
"It was massive," says Mr. Abdulhusein, explaining that he had been frequenting Bolgoda for 40 years but never seen a crocodile, and a "big fellow" at that, so close.
The crocodile was easily 6-8' long and about 2-3' wide, he says. Yes, he had seen a crocodile while boating, most probably this same one across the lake sunning itself on a rock with its jaws wide open about three years ago. But those glimpses were from a distance and he had not realized how big it was.
The crocodile had swum about 4 km across the lake and Mr. Abdulhusein was fearful for all the people not only water- skiing but also getting into the water for fishing or cottage industries connected with mangroves.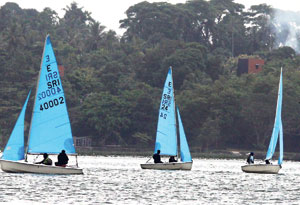 Sailing: Familiar sight on the lake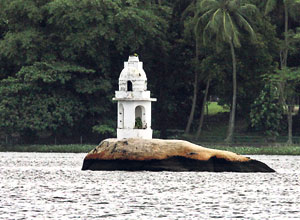 Angulu Eliya: Where the crocs sun themselves.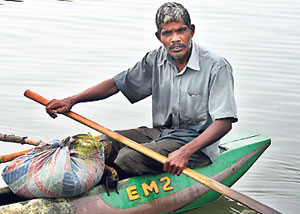 Dilroo: A canoe fisherman
His fears worsened when he heard that two days after he, his son and daughter had a close encounter with the croc one of three dogs frolicking in the shallow waters of the lake on the other side had gone missing.
"The fishermen claim the croc is harmless but I feel that it is roaming all over because of a reduced number of fish which is its food and is targeting larger animals. What if he turns into a man-eater," he says, adding quickly that it should not be harmed because humans have gone into its territory.
The lake area is croc-infested, many people told our photo-journalist M.A. Pushpa Kumara when he went walkabout in the area on Thursday in a futile attempt to "capture" the crocodile on camera.
Many kimbulas (crocodiles) can be seen sunning themselves at Angulu Eliya, says Piyadasa.
Piyadasa, known as 'Kadira', a maraya (thug) of Muvan Pelessa fame (a radio drama of old) has killed as many as a dozen crocs in 1970-71 when it was not prohibited. "Those days this area, Karadiyana, was under paddy and crocs would walk across vast stretches leaving marks as if coconut trunks had been dragged across," he said.
Dilroo, a canoe fisherman, says that the area has over 100 crocs and after a small shower of rain about 50 babies can be seen sunning themselves amidst the trees at Angulu Eliya. "But they won't attack humans," he says, although people have claimed that chickens, pigs and cattle have been taken as prey.
"Diya bung gahanawwa," says Nilroo, explaining that people get into the water and clap their hands loudly so that the echo will reach the bottom to scare away the crocs while fishermen do the same to the bottom of their boats.
Save these crocs
The best solution whenever a crocodile haunts a heavily populated area is for the staff of the Department of Wildlife Conservation and Zoo to capture it and keep it in a safe place, stresses crocodile specialist Anslem de Silva, explaining that those creatures found from Muthurajawela to Matara are usually salt-water crocodiles (Crocodylus porosus) known as gata kimbula.
It is a predator and normally goes for small mammals, fish, amphibians, crabs, birds and other reptiles. There is danger to humans only if they get used to attacking humans, he says, urging that the salt-water crocodile should be looked after by the people. Although it is widely spread from India to Australia, it is a threatened species in Sri Lanka.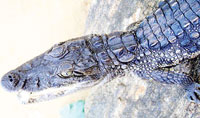 A Mugger Croc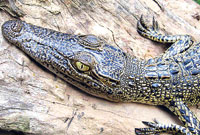 A Salt-Water Croc. Pix by Anslem de Silva
He said that captured salt-water crocs should not be released at Yala because they will attack and kill the mugger crocodiles (Crocodylus palustris) known as hela kimbula resident there. Crocodiles are protected animals in Sri Lanka and those who become a nuisance should be caught and kept in large enclosures (like the Madras Crocodile Bank in Chennai, India), making it not only a tourist attraction but also conserving the animals.
He disclosed how a salt-water crocodile taken in a helicopter 400km and released in Australia had walked back to its original home after several weeks.
Detailing the difference between the salt-water croc and the mugger for people to identify them, this Vice Chairman of the Crocodile Specialists Group, IUCN/SSC, South Asia and Iran says muggers stick together whereas the salt-water crocodile is a loner.The salt-water croc has small scales which are separate behind the head while the mugger has juxtaposed larger ones, he says.
The salt-water croc is also a mound-nester, building a large cage-like nest about 1X1 1/2m in a lonely place close to the water amidst decaying vegetation to lay its eggs. The mother will aggressively protect the eggs and when they are about to hatch, the hatchlings make a croaking noise which will activate the mother to aid in the birthing process. However, the mugger is a small hole-nester.
Underlining the importance of crocodiles, Mr. de Silva states that they've been found to be very important in medicine and science. "Trials have shown that freeze-dried crocodile blood is the best for managing iron deficiency anaemia and that refined crocodile blood extracts have exhibited strong controlling effects on human pathogenic bacteria known to be resistant to multiple antibiotics."
In the recent 500-page monograph of the Crocodile Specialists Group, Mr. de Silva's work on 'The status of the Saltwater crocodile inhabiting the Nilwala river, Matara district and its impact on the community' was the only invited paper, with the editor in a footnote stating that the paper from Sri Lanka is important because it is the first report since 1979.