It's hard to believe that it is still possible to stay at the height of the season in Sri Lanka in a room that opens onto the beach, just a few feet away from the gently lapping surf, at Rs. 1,500 a night for two people.
I found this extraordinary place by going back 30 years. That's when I first stayed at what was then called Pragash French Garden at Uppuveli. It is actually on the same beach as the ultra chic, newly opened hotel that is wowing everybody, the Chaaya Blu.
It's about a ten-minute walk along the beach from Chaaya Blu to Club Dive Paradise as it is now called, and a lot further from that hotel in comfort and trendiness. With its doors, walls and shutters painted bright reggae colours, Club Dive Paradise is reminiscent of the hippy era of the 1970s.
There are only six guest rooms and they are basic in amenities with metal frame beds with a single, slim pillow, and attached shower and toilet cubicle. Rooms are small but each has a ceiling fan, mosquito net and wooden window shutters opening onto its own verandah by a garden of palms, the beach, and the sea.
The paradise part is waking up in the morning and flinging open the shutters to a brilliant sunrise. The club part of the name doesn't mean membership is required but refers to the exclusivity of being a guest at the place.
The atmosphere is so laid back, the staff of amiable youngsters either relax in the hammocks spun between palm trees, jog along the beach, or jig around to music. They respond to guests' requirements only when absolutely necessary. And that's the way the guests like it since they are all young at heart and happy to do things for themselves.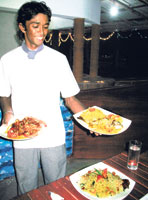 Chinthana's specials: One of the main attractions
The guest house and diving is under the direction of Eric Fernando, one of Sri Lanka's most experienced divers who runs dive centres in Bentota and Nilaveli. Eric knows reefs and wrecks that make diving with him a special thrill as he introduces guests to a paradise under water.
For non-divers, the main attraction of the guest house is the food. I know everything is fresh because I saw the young chef, Chintana, buying fish from boats hauled up on the beach, and later choosing succulent vegetables from the market in Trincomalee.Chintana only prepares food on demand so everything is zestily fresh, from prawns drenched in garlic butter to grilled mullet with crisp French fries. His breakfasts of hoppers and fish curry are substantial enough to give guests the energy for a day's diving, or just for relaxing in one of those hammocks.
The fastidious would claim that not all is perfect in Club Dive Paradise; if it were, the rooms would be air-conditioned, thatched cabanas, with Egyptian linen and plump pillows -- and the rates could be ten times as much.
The beach has suffered from years of neglect and is often littered with plastic; the crows are both active and noisy and there are dogs and cows in the vicinity. But so far there are no peddlers on the beach harassing guests who just want to rest, and no fences stopping guests walking straight from their rooms to the sea.
For me, staying at Club Dive Paradise was like returning to the old days when beach holidays were easily affordable – and we weren't fussy about shortcomings. Even now, after a day of diving or relaxing, guests can spend the evenings at candle-lit tables in the palm grove eating Chintana's great local dishes under the stars, completely undisturbed.
It's a living reminder of what simple holidays by the beach used to be. Club Dive Paradise, French Garden, Uppuveli can be contacted on; email: cdp.french@yahoo.com; tel: 0777 728266.