Freeze….no it's not a game. Stand still and don't move, the moment you see an angry dog charging you. For if you run, the dog will sense your fear, chase you and take a nip. If you are still, it will hesitate before pouncing.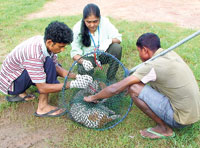 Municipality workers catch a dog for vaccination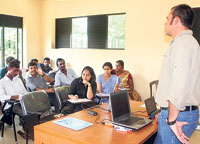 Teaching the handling of dogs at the workshop.
These are the valuable tips that the Community Liaison Officer of the Blue Paw Trust Renuka Malkanthi gives on prevention in a country where the National Hospital reports 1,600 dog-bites on average every month.
Dogs are extra alert if their food is around or they have puppies. So, don't go near their food or their puppies, she advises, stressing that one must refrain from annoying a caged or tied dog because that animal is already angry about being restricted.
Such a dog could lunge at you and may very well be able to break free, she says. Keep a distance of about 10m from a tied dog to avoid its jaws, while being conscious of the fact that if the dog is infected with rabies, the virus will transmit easily to the brain of a human if bitten in the upper part of the body. In an unfortunate situation where you are attacked by a dog, cover your ears and face.
These important points were discussed by Malkanthi at a four-day workshop organized by the Colombo Municipal Council (CMC), the World Society for the Protection of Animals (WSPA) and the Blue Paw Trust for Animal Control Operatives in July at the CMC's Veterinary Department auditorium at Dematagoda.
Veterinary surgeons and dog catchers from the Colombo, Dehiwala-Mount Lavinia, Kandy, Kotte and Negombo Municipal Councils along with Health Ministry veterinary surgeons participated.
The workshop aimed to train the participants on handling dogs in a humane manner while also giving priority to the handler's safety.
Many dog-catchers who handle stray dogs to vaccinate or sterilize them are not concerned about their own safety, said the Blue Paw Trust's Project Manager for Colombo humane dog population and rabies management, Shevanthi Jayasuriya.
| | |
| --- | --- |
| | |
| Dr. Eleperuma | Ms. Jayasuriya |
Incidentally, the workshop also introduced the name 'animal control operative' to take away the stigma attached to the name dog-catchers.
Earlier the CMC caught and killed stray dogs as a measure of preventing rabies, said Chief Municipal Veterinary Surgeon Dr. S.D. Eleperuma, adding that since 2006, however, there is a "no-kill" policy. Strays are vaccinated and also sterilized.
Working with the Blue Paw Trust and the WSPA, we have managed to vaccinate and sterilize 4,300 of the 5,000 stray dogs in Colombo city, he added.