The setting is beautiful and the kovil has a long history dating back to the 15th century. In the small beautiful village of Thondaimanaru in Vadamarachchi is the Selvasannathy Murugan Temple, with sandy beaches leading to a sparkling Indian Ocean to the north, a green vista to the east and the tranquil waters of the lagoon to the south and west.
Pilgrims throng the temple this month for the festival from August 10 to 24. Among the highlights are Poongavanam on August 18, which is on the 10th day of the festival unlike in other temples; the cart festival on the 23rd, followed by the water-cutting ceremony on the 24th. A special pooja known as the Mouna Thiruvilla is held in the late evening after the water-cutting ceremony, followed the next day by another pooja for people who have served the temple throughout the festive season.
In the past there were many ashrams around the temple with swamis in residence but most of them were destroyed during the war
Surrounded by palms and large banyan trees, the temple is a haven for many a pilgrim, with the western side of the lagoon being an ideal spot to take a dip.
The priests here do not chant mantras as is done in other temples but tie their mouths with white cloth when performing poojas. For, it is believed that Lord Murugan had appeared in a dream to villager Kadirkamar requesting him to perform poojas at the temple. However, Kadirkamar had been quick to reply that he knows no mantras, to which Lord Murugan had told him to tie his mouth and perform the poojas.
This temple is also known as Annathaana Kanthan as alms-givings take place here as well as the surrounding ashrams. Everyday the needy pilgrims are fed.
Yathav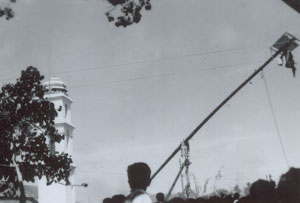 With more than 50 ways of fulfilling vows at this temple, in 1959 this pilgrim performed the most difficult – Thula Kavaddi where he was suspended from a pole with a hook piercing his back.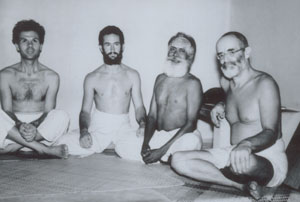 There were swamis from all over the world living in the ashrams around the temple way back in 1956. In this photo from the past is Yanaikutti Swami, son of Lord Soulbury (extreme left) with three others from Australia, India and Germany.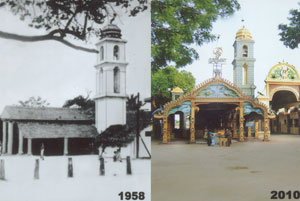 Murugan Temple: Then and now