The waters of the Indian Ocean entered the Magampura Harbour yesterday, after a part of the old Matara-Kataragama Road was blasted around 8.30 in the morning to effect the connection.
After the connection with the sea, the water level in the harbour has risen up to 17 feet and Sri Lanka lost 63 hectares of land to the sea as a result, Southern Port Development Authority Chief Engineer Adil Hewa Geeganage said.
1.5 tons of explosives had been used to blast a gap in the road to create the connection between the harbour and the sea. The first ship is scheduled to reach the harbour during the third week of November this year.
"The harbour will be developed to accommodate four ships in 2011", he said. There are four phases to the construction of the harbour and on completion, 32 ships could be accommodated in it.
"After the harbour basin was filled with water for the first time on August 15, 10 cm was filled per day for 10 days and subsequently, one and a half feet per day was filled," the Chief Engineer said.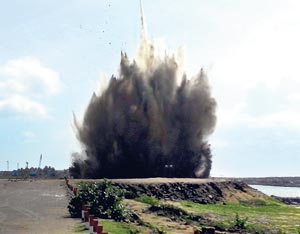 The blasting of the road.