An illicit vehicle yard that assembledbrand new-looking luxury and semi-luxury vehicles incorporating imported spares was busted this week at Tiththawella in the Kurunegala district, police said.
According to police the multi-billion-rupee-racket had been going on for several years, with the chief suspect maintaining links with politicians and other top officials.
Prado ready for sale
At the time of the raid police found a brand new-looking Prado jeep, one van and two minimoke type vehicles that were tagged for sale.
In addition, the sprawling yard was also packed with every type of motor spares originating from different countries. Several vehicles were also in the process of being assembled at the time of the police raid.
The modus operandi of the suspect was simple.
He would buy the spare parts imported by various individuals and later engage top mechanics to professionally give the finish and appearance of a brand new vehicle and later hawk them in the market at prices ranging from Rs. 300,000 to 800,000, police said.
Investigators believe that the yard had sold over a 1,000 vehicles and in the process had defrauded the state coffers of billions of rupees in foreign exchange.
Police are also looking into the possible connection of a senior official of the Registrar of Motor Vehicles (RMV) who is alleged to have provided the yard with relevant documentations that provided chassis numbers and other requirements.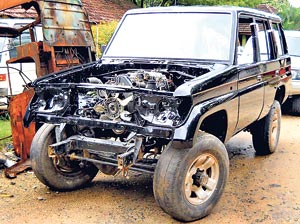 A half-assembled vehicle
Meanwhile the Coordinating Officer to the President in the Kurunegala district Prabath Kumara is alleged to have stormed the local police station armed with a pistol and forcibly removed a Prado jeep after threatening the police officers on duty.
Following the raid which was ordered by Senior Police Superintendent Vaz Gunawardene several politicians and top businessmen in the area have begun to apply pressure on the police.It is also reported that the area businessmen have grouped together to confront the police saying it was a matter for the Customs Authority and not for the police to investigate.
However, police are convinced that several corrupt Customs officials are on the take from these businesspersons and are now probing if there are more similar garage outlets in the area.
The chief suspect was later produced in courts and remanded till October 18 by Kurunegala Magistrate Buddhika. C. Ragala.