Cases of rape involving children have been making the news, with close relatives found to be behind the majority of the crimes. In the past few weeks, the media has highlighted at least four cases of children becoming pregnant as a result of rape.
"Close relatives are responsible for 99 per cent of reported cases of rape," according to National Child Protection Authority (NCPA) chairperson, Anoma Dissanayake.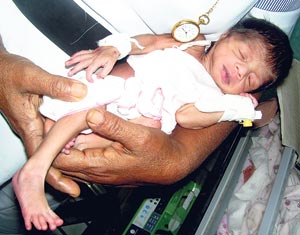 Baby born to a teen mother in Matara who was forced into sex by a close family member.
"These people move closely with the victims and have the opportunity to commit the crime. There are more incidents of rape by close relatives than of rape by strangers."
In many of the cases, investigators found that the mother was away in the Middle East on a job contract, while the child was left in the care of family members. The victims have been forced into sex by their fathers, brothers, uncles or grandfathers.
Those most vulnerable to rape are girls in the 14-to-16 years age group, said Mrs. Dissanayake, adding that there have also been cases of children as young as seven and eight years being raped by family members.
A 13-year-old whose mother was away in the Middle East claimed she was repeatedly raped by her father for almost a year. In a bid to escape her father's advances, the girl brought a school friend home to substitute as a sex partner for her father. The man faces two charges for raping underage girls.
Young victims of rape are inevitably traumatised and emotionally scarred by their experience, Mrs. Dissanayake said, and they often end up as social outcasts.
These children are usually reluctant to go back to school and face society, and as result lose out on an education and forfeit their prospects for a happy and productive future. "We try to persuade these child victims to continue with their education," she said. "We also give them psycho-social therapy to help them integrate back into society and return to their normal day-to-day lives."
If these victims are not helped early and given proper guidance, they could end up as repeat victims of rape, or even as prostitutes. The Police reported a case of two men in Nugegoda forcing a 16-year-old girl into prostitution, and another case of a 60-year-old man who raped his 12-year-old adopted daughter, then killed his wife and committed suicide.
There have also been cases of people in positions of authority taking advantage of underage persons.
The Police reported a case of a Grama Sewa Niladhari in Vanathavilluwa, in the Puttalam district, forcing a 15-year-old girl into sex on the promise of helping her obtain a housing loan.
The Police have listed several cases of girls between 13 and 15 years being raped by a boyfriend or multiple "boyfriends". Some of the males arrested on rape charges are as young as 17 years. Many of these teens, say the Police, do not realise that having sex with a girl under 16 years is illegal, and that sex with a girl under 16, even with her consent, is considered rape by the law.
A large number of the cases of underage rape are reported from families on the poverty line, living in poor, underdeveloped neighbourhoods.
"We can't send these children back to live in the same unhealthy conditions," said Mrs. Dissanayake of the National Child Protection Authority. "We have to find them proper safe homes, with people to look after them. The Ma Sewana is one institution that helps girls in such plights."
Most of the teen mothers give their children up for adoption, Mrs. Dissanayake said. Unmarried teen mothers can choose between raising their children themselves or giving the children up for adoption.
Meanwhile, the child can also become a victim, being at the mercy of those appointed to decide its future.
"The probation committee meets only twice a year, so the baby is kept waiting for months on end," Mrs. Dissanayake said. "And if the child is to be adopted, the adoption procedure can drag on, sometimes for as long as three years.
"All this time, the poor baby is deprived of love and attention and parental care – at the most crucial period in a child's life."