Some 183 Sinhala families who claim they lived in the Jaffna Peninsula before 1983 want the authorities to resettle them in their former homesteads. However, Jaffna District Secretary Emelda Sukumar said yesterday these families did not have documents to prove land ownership. Hence, she was taking up the matter with the Presidential Secretariat while the families comprising about 500 people are staying in the Jaffna railway station area.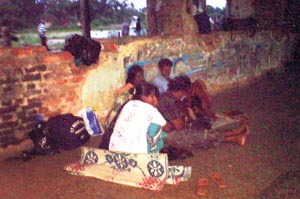 A Sinhala family staying at the Jaffna railway station premises
Ms Sukumar said that she had not been informed about these displaced families coming back to Jaffna and thus it had caused food, security and sanitation problems. "I will act according to the instructions of the Presidential Secretariat," she said.
Meanwhile Police and Army personnel are providing security for these families including children who have been living around the railway station since Monday.
Anyone wishing to visit these families has been ordered by the police to enter their name in a log book. Minister and EPDP leader Douglas Devananda said yesterday that he had sought full details from the District Secretariat and directed that measures be taken for the welfare of these families.
However, another EPDP member M. Chandrakumar, who is also the Deputy Chairman of Committees in parliament, said he believed these families had come to Jaffna with the backing of an "organised group' to claim state land.
"There is no problem if people come and claim their own land, but there is a problem if they come and demand state land in places where no such land is available," he said. Families who were describing themselves as members of the Sinhala Returnees Committee spoke to the Sunday Times.
This committee's secretary Lalith P. Wickramasinghe said: "A few of us who now live in Mihintale, decided to return to our birthplace, Jaffna, on September 13 to meet the authorities regarding our claims to be resettled in Jaffna. Having met Minister Devananda and Jaffna's District Secretary, we handed over a petition explaining our case to them.
"We also went to meet Northern Province Governor G.A. Chandrasiri, but he was out and we left the petition at his office and returned to Mihintale. Not having heard from the authorities by October 4, we decided to mobilize the 183 families we had maintained ties with over the years, and return to Jaffna to have our case heard. Everyone came on their own, either by bus, three-wheelers, personal vehicles and even by motorbikes and gathered at the railway station.
"Even though we have now built houses and have been living in the South for nearly three decades, we want to return to the place where we were born and start afresh."