Captain Gerald Fitzpatrick's blue-grey eyes look out over the turbulent sea at Galle Face, remembering scenes from Ceylon of a war which has been eclipsed here by the recent ethnic conflict.
Considering his 91 years, Captain Fitzpatrick's memories of World War II remain as clear and detailed as they ever were. And as Sri Lanka takes steps towards recovery from the recent conflict, publishers in UK read the pages of a manuscript titled Beyond Pearl Harbour and Burma- Captain Fitzpatrick's second book which- among other things- gives in its 12th chapter (The Joys of Ceylon) an account of Sri Lanka in the time of World War II.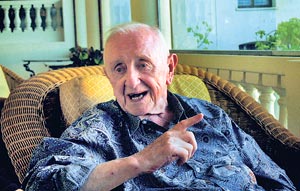 Captain Gerald Fitzpatrick
1942 was an eventful year for Sri Lanka, with the threat of a Japanese attack and the air raid on the naval base, its magnitude seen in Britain's wartime premier Winston Churchill's famous comment: "The most dangerous moment of the War, and the one which caused me the greatest alarm, was when the Japanese Fleet was heading for Ceylon and the naval base there. The capture of Ceylon, the consequent control of the Indian Ocean, and the possibility at the same time of a German conquest of Egypt would have closed the ring and the future would have been black."
Captain Fitzpatrick has vivid memories of his own 1942 visit to Ceylon. "I stayed in Ceylon for a month," he recalls, "and what struck me the most about the country was its people. There was a certain serenity and gentleness about them and their mannerisms, which I had never encountered before."
Called upon by General William J. Slim to inspect a Jungle Warfare School near Kandy, the Captain laughingly describes the school as "a little like a Girl Guides' camp." While Ceylon recovered from the panic of the Japanese attack of April 5, 1942, Fitzpatrick made the arduous journey on foot from Elephant Pass (travelling 25-30 miles a day) to Nuwara Eliya with an Indian Regiment. "Despite the difficulties, there were many good times as well," he smiles, recalling a stopover at Trincomalee where some "very generous rum rations" were enjoyed.
Sixty eight years have passed and what brings him back is a passion for learning about different people and how they live. Having spent three weeks travelling to Kandy, Anuradhapura, Polonnaruwa, Jaffna, Trincomalee, Yala, Nuwara Eliya, Galle and Habarana with his wife Patricia, he says he sees considerable change in the island.
His first book- No Mandalay, No Maymyo (79 Survived) (2001), was a factual, first hand account of the events leading up to the Japanese conquest of Burma in 1942. Beyond Pearl Harbour and Burma confirms what in its predecessor was a considerable amount of surmise due to the withholding of vital information.
Captain Fitzpatrick's eyes cloud over slightly as he remembers the experiences which he put down on paper for No Mandalay, No Maymyo. "It was a very difficult campaign," he recalls. "Throughout the journey, none of us were told where we were going, so we had to speculate and we came to the conclusion that our destination was in the tropics. During the 10 week journey, I lost 21 kilos, and things did not get any better when we reached Rangoon. At the end of the campaign, none of us got to see Mandalay or Maymyo, and out of 600 soldiers, only 79 survived- some killed in the fighting, others succumbing to diseases like malaria. Added to this, there were so many pieces of information kept secret.
"The Japanese had their own brand of treachery but leaders like Roosevelt and Churchill were guilty of the same treachery in ensuring that a degree of secrecy remained for 30 to 50 years during which time we had to simply pick up the threads of some random bits of intelligence and try to form an accurate picture. This is true of any war, and any army. Whenever they can claim glory, they will, but they will never admit to failure."
The recently established Freedom of Information Act has been invaluable in Fitzpatrick's quest for information. "Under this act an individual is given the right to ask for previously withheld information on historical events, and is entitled to the answer to that question. And I received a great deal of information from the American Embassy in London which helped me complete my manuscript."
Beyond Pearl Harbor and Burma (Leader Duplicity and Inept Command) also includes some entertaining anecdotes of Captain Fitzpatrick's military career and his time in Ceylon which the author with a mysterious smile, will not divulge.
Born in Yorkshire, Fitzpatrick's initial goal was to complete a degree in engineering. "But then," he reminisces, "the war began to escalate in a way none of us would have imagined possible, and I knew that I needed to join the army." Serving in the King's Own Yorkshire Light Infantry regiment, Fitzpatrick was offered a commission twelve months after signing up- a commission which he accepted as it allowed him a specialization in engineering. "I was always described as a loose cannon," laughs Captain Fitzpatrick. "A loose cannon- I was told- is a soldier who likes to do what he wants. And as there was little general knowledge of engineering, I was given the freedom to do what I wanted and that worked well for me."
"The times were tough," reflects this old soldier, "and they were gruelling, but the years spent with the army were some of the best years of my life."