Events in Tunisia have led to it being called the 'First Wikileaks Revolution'. Although there has long been opposition to the corrupt rule of President Ben Ali, protests gathered pace when US embassy cables were published by Wikileaks.
Zine El Abidine Ben Ali has fled the North African state he ruled for 23 years and has gone into exile. Prime Minister Mohammed Ghannouchi has taken charge as the interim leader. A recently released June 2009 cable referred to the president and his siblings as 'The Family', likening them to a Mafia elite who ran Tunisia's economy.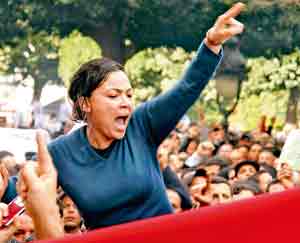 A protester gestures as she shouts slogans during a demonstration against Tunisian President Zine al-Abidine Ben Ali in Tunis. Reuters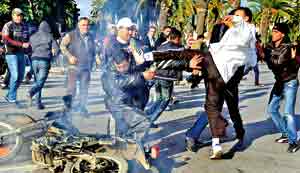 A protester hits a policeman during clashes with riot police in downtown of the capital Tunis. Reuters
The cables, published in December, also claimed that the president's wife -- Leila Ben Ali -- had made huge profits out of the building of an exclusive school. The cables lifted the veil on the corruption of the country's elite. Another cable which detailed how much the first family was loathed was blocked.
Within weeks, word of mouth had forced protestors onto the streets, culminating in Friday's revolution. In the banned cable, US ambassador Robert Godec wrote: 'Corruption in the inner circle is growing. Even average Tunisians are now keenly aware of it, and the chorus of complaints is rising.
'Tunisians intensely dislike, even hate, first lady Leila Trabelsi and her family. In private, regime opponents mock her.' Mr Godec headlined some of the passages in the banned cable as 'The Sky's the Limit,' 'All in the Family,' 'Yacht Wanted,' 'Show Me Your Money', to show how the Ben Alis were operating.
American and European travellers were on Friday warned against non-essential travel to the north African country amid the risk of violence during demonstrations in the country.
The Department of State's travel alert warned of 'intensifying political and social unrest' including clashes between protesters and police that have resulted in dozens of deaths and injuries. 'The unrest has recently spread to Tunis and all major cities, including popular tourist destinations', the travel alert said.
'While these disturbances appear to be triggered by economic concerns, and not to be directed toward Westerners, US citizens are urged to remain alert to local security developments and to be vigilant regarding their personal security', the alert continued.
Deadly clashes between protesters and security forces occured on Friday in Tunis and its suburbs in an unprecedented challenge to the regime, which has claimed 23 lives so far this week. Police crackdowns in the past month have resulted in 66 deaths, according to an international human rights organisation.
The riots, which have been rumbling all month and have gripped the nation, have been caused by levels of high unemployment and general disenchantment with a government some view as corrupt. President Ben Ali, who came to power in a bloodless coup in 1987, had said he would leave the presidency when his term ends in 2014 but has now been forced to leave immediately.
He ordered prices on food to be slashed and made pledges for political and media freedom. Hundreds of people took to the street of the capital Tunis today to march after Mr Ben Ali read out the list of promises and concessions.
Some protesters carried posters reading 'We won't forget', a reference to the 23 deaths - though Mr Ben Ali's opposition party believes that there are dozens more than that. The International Federation of Human Rights Leagues, known by its French acronym FIDH, said yesterday it has tallied 66 dead in the unrest so far, including seven people who killed themselves.
The peaceful march came as Tunisia's only legal trade union went ahead today with a symbolic two-hour strike in the region of the capital. The deadly riots have destabilised the authority of Mr Ben Ali, who has led the country for 23 years.
And he has been forced to be unusually contrite ordering prices on sugar, milk and bread to be dropped. Buoyant crowds spilled into the streets after his speech, many cheering his price cuts but some questioning his commitment to real change.
Calling for a 'cease-fire', Mr Ben Ali, 74, told his nation in a televised speech: 'I have understood you.
'I have understood the demands about unemployment, the demands about necessities, and the political demands for more freedoms.'
- Courtesy Daily Mail, UK