KRAKOW, Poland, Jan 14 (AFP) - The Vatican's decision on Friday to beatify the late pope John Paul II on May 1 has sparked an emotional welcome in his Polish homeland, especially in Krakow where he once served as cardinal and in his birthplace Wadowice.
"We've been waiting for this for a long time, to have our own saint in heaven -- a saint of our times," Justyna Malinowska, a young Krakow resident told AFP Friday as she and her husband Mateusz stood below a first floor window at the Krakow archbishop's residence where John Paul appeared for now legendary evening "chats" with thousands during his trips home.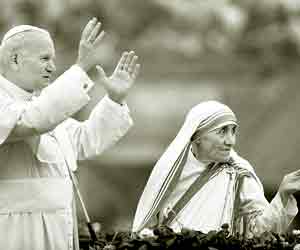 Photo dated 03 February 1986 shows Mother Teresa and Pope John Paul II waving to well-wishers, at the Nirmal Hriday Home, in Calcutta. John Paul II is to be beatified on May 1, 2011, the Vatican announced on January 14, 2011, after Pope Benedict XVI signed an official decree. AFP
A bouquet of roses in the Vatican colours of yellow and white lay beside a flickering candle at the residence Friday where Karol Wojtyla had served as archbishop from 1964 until he was elected to the Holy See in 1978.
For many Catholics who wanted him "santo subito" (Italian for sainthood now) just days after his death April 2, 2005, John Paul II was a living saint. "To us, he was a saint even before the beatification process began," Mateusz Malinowski told AFP.
"We've prayed every month for his beatification," a crucial step toward canonisation as a saint, Agata Schonborn, told AFP as she paused for a moment to pray before a bronze statue of the late pope in the residence courtyard.
"Now we will pray to be well prepared for this beatification and for it to bring the best fruit for the entire world," she said. "In the history of the Church, there has never been a beatification where the blessed has been known by such a large number of people," observed Father Adam Boniecki, editor-in-chief of the broadsheet Tygodnik Powszechny Catholic weekly where as a cardinal Karol Wojtyla published his poetry under a nom de plume.
His travels took him to 129 countries, where he sought out contact with ordinary people and held open-air masses that attracted millions at a time.
"It's not a surprise, we were expecting this moment," Boniecki, 76, who was also a personal friend of the pope, told AFP. "It was a very short beatification process, especially for the beatification of a pope," he said.