TUNIS, January 15 (Reuters) - Tunisia's new leader promised order would be restored while he attempts to form a coalition to take the country to elections after a wave of popular protests swept the president from power.
The Tunisian army was called onto the streets on Friday, witnesses said, as residents in several parts of the Tunisian capital said groups were marauding through the town setting fire to buildings and attacking people and property.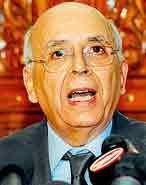 Prime Minister Mohamed Ghannouchi appealing for calm. AFP
In a dramatic climax to weeks of violent protests against his rule, Zine al-Abidine Ben Ali, Tunisia's president for more than 23 years, fled to Saudi Arabia on Friday and Prime Minister Mohamed Ghannouchi took over as caretaker president.
But it remains to be seen whether the protesters will accept Ghannouchi's interim leadership, or take to the streets again. "Tomorrow we will be back on the streets, in Martyrs Square, to continue this civil disobedience until ... the regime is gone. The street has spoken," said Fadhel Bel Taher, whose brother was one of dozens of people killed in protests.
Occasional gunshots could be heard in the centre of Tunis as well as the sound of tear gas grenades being fired, while helicopters patrolled overhead and acrid smoke hung in the air. In working class suburbs, residents lined the streets, holding metal bars and knives to ward off looters.
Ghannouchi went on live television, via telephone, to promise everything was being done to restore order.
"I salute the fact that groups of young people have got together to defend their neighbourhoods but we can assure them we will reinforce their security," Ghannouchi said.
"We are at the service of the Tunisian people. Our country does not deserve everything that is happening. We must regain the trust of citizens in the government." The prime minister told Tunisians he would steer the state until early elections. But it was not clear whether protesters would accept the technocrat Ghannouchi, prime minister since 1999, due to his close association with Ben Ali's rule.
"All I fear is that the Tunisian street, as long as it sees one person from this regime remain, will continue to complain. We need to create a government in which all parties are represented, to salvage the situation," said Paris-based analyst Ahmed al-Bawlaqi.
Ghannouchi said he would meet representatives of political parties today to attempt to form a coalition government.