BRISBANE, January 15, (AFP) - An army of volunteers turned out today to clean up Australia's third-largest city Brisbane after epic floods, as towns were evacuated in the country's south amid the rolling disaster.
Just as stricken areas in and around the eastern hub of Brisbane began the mammoth task of recovering from floods that killed at least 16, thousands of residents of southern Victoria state were forced to flee fast-rising waters.
Prime Minister Julia Gillard said she was "obviously very concerned" about the 2,500 residents affected by floodwaters in central Victoria, which have spread across 29 towns and hit more than 1,000 properties.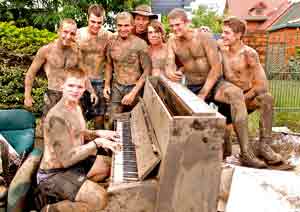 The mud covered friends pose around a destroyed piano, as they help a friend's family clean their house after flood waters receded in the Brisbane suburb of Westend. Reuters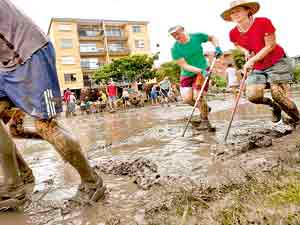 Residents and volunteers work together to clean up the homes and streets of the West End area of Brisbane. AFP
While the waters had peaked in some areas of Victoria, they were yet to reach their maximum level in other parts of the state, as Australia's rolling flood crisis spread. Flood waters, which have also hit the southern island of Tasmania this week, meanwhile kept more than 7,000 people isolated in northern New South Wales.
In devastated Brisbane, more than 1,300 kilometres (800 miles) northeast of the Victorian region hit by floods, more than 22,000 people volunteered to help clean up after the floods this week caused billions of dollars of damage.
Swathes of the city lie caked in a thick layer of stinking mud left behind after the Brisbane River burst its banks on Wednesday, flooding houses up to their roofs, destroying infrastructure and sending debris and boats hurtling downstream.
"We came down today because we felt it was something that we needed to do... there's a moral obligation and social obligation as well," said volunteer Darren Moss. Hundreds clutching buckets and brooms gathered at Brisbane bus depots to be taken to areas where homes were badly hit, while in the nearby town of Ipswich, hundreds more gathered to help clean out flood-hit houses there.
"As soon as the waters went down we looked at the devastation, we looked at people's dreams, all in tatters," Ipswich mayor Paul Pisasale told the ABC broadcaster. "It has hit us by shock, but I can tell you we're coming back and we're coming back in a big way."More than 80 towns in Queensland, including the state capital of Brisbane, have been hit by the once-in-a-century floods, which have covered an area larger than France and Germany combined in recent weeks.
The clean-up operation is yet to begin in regions west of Brisbane that were hit by a horrifying flash flood on Monday, killing at least 16 people and leaving more than 20 others missing. The grim search for bodies continues.
In the Lockyer Valley, dubbed the Valley of Death after a wall of water cascaded through it, flash floods uprooted entire houses and lifted up cars like paper cups, propelling them through the churning water.
Brazil braces for more rain after floods kill hundreds
NOVA FRIBURGO, Brazil, Jan 15 (AFP) - Brazilians today braced for more rain, fearing more catastrophic landslides after walls of muddy water tore through towns and claimed nearly 550 lives in the country's worst-ever flood disaster.
As rescue teams and residents combed the wreckage of hillside communities near tourist hotspot Rio de Janiero, forecasters warned the wet weather was likely to last into next week. The bad weather was hampering efforts to reach many small towns and rural areas, cut off after the floods washed away roads and tracks.
At least 545 people died in the towns of Nova Friburgo, Teresopolis, Petropolis and Sumidouro, the local mayors and Civil Defense officials reported. The toll however is not final, as rescuers continue to search amid the mud-covered rubble for bodies. An estimated 12,000 people were left homeless.
Forecasters have said the storms dumped the equivalent of a month's rain on the area in just a few hours, and blamed the unusually wet weather on the La Nina phenomenon which has increased rainfall in southeast Brazil.
The G1 news outlet called it "the biggest climatic tragedy in the history of the country," surpassing the 437 people killed in a 1967 mudslide previously considered Brazil's worst disaster.
"The forecast of more rains is not reassuring," said the Rio governor Sergio Cabral, again urging residents to abandon their homes in the disaster zones and move to safer ground.