Controversial Italian Prime Minister Silvio Berlusconi was under fire again as it emerged on Friday he is being investigated for extortion and underage prostitution. The probe on Mr. Berlusconi, 74, centres on his relationship with a belly dancer called Karima el Mahroug, then 17, who was a guest at a party he hosted at his home last year.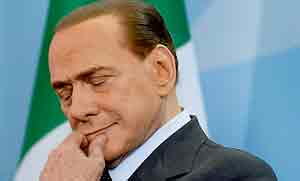 Investigated: Silvio Berlusconi may be prosecuted over his involvement with a teenage nightclub dancer
The extortion accusation centres on the pressure he put on Milan police to release the exotic dancer -- nicknamed Ruby Rubacuori (Ruby The Heartstealer) -- after she'd been arrested on suspicion of theft.
Berlusconi's current term in office has been dogged by continual allegations involving women -- but somehow he has managed to cling on to office even surviving a double no-confidence vote in Parliament which was greeted by riots in the street.
His lawyers confirmed he is under investigation in a prostitution case which they call 'absurd and groundless'. Nicolo Ghedini and Piero Longo said the probe represented a 'very serious interference in the prime minister's private life'.
They said the allegations 'have already been refuted by all witnesses and people directly involved'.
The prostitution charge centres on the allegation that he had sex with the belly dancer sometime between February and May last year and is punishable by a jail term of between six months and three years.
Two months ago it emerged that the media-tycoon-turned politician had called police and asked them to release Moroccan-born Ms. El Mahroug after she had been arrested on suspicion of theft.
He is said to have wrongly told officers that the girl, who at the time was 17, was the grand daughter of Egyptian president Hosni Mubarak and to avoid diplomatic embarrassment she should be released.
Mr Berlusconi sent one of his MPs -- half British Nicole Minetti -- to pick her up from Milan central police station following her arrest last May and she was freed into her care.
In an interview Miss El Mahroug said that at the party she had been given a diamond necklace, €7,000 and an Audi by Mr Berlusconi who said he 'felt sorry' for her as she told him her life story at the party at his home in Arcore near Milan. Miss El Mahroug said: 'I left before midnight. I told him all my problems. He got very upset and he gave me €7,000 and a Damiani necklace.
'After that evening I never heard from him again.' 'When I said I was 17, he said that in the past he'd had problems with minors. He said he didn't want it to happen again. Then we said goodbye, he was polite but firm.

Ruby Heartbreak: Belly dancer Karima el Mahrougm, then 17, was arrested last year but reportedly freed after the intervention of Italian PM Silvio Berlusconi
'I was upset as he was the first man in my life who had not wanted to take me to bed. 'He was like a father, I swear. Silvio welcomed me with open arms, he invited me into his house. He was so sweet.'
Moroccan Ms. El Mahroug , who is in Italy illegally, added: 'He protected me and he gave me some money. He said he would help with my residency permit. He didn't want anything in return, I swear.
'There was no sex. He sent me a couple of messages and he said that I had left an impression on him. He said that he liked me. I replied that I liked him as well and it wasn't just because of the money.'
Mr Berlusconi's long-suffering wife Veronica Lario, 53, is divorcing him after it emerged two years ago he had attended the 18th birthday part of underwear model Naomi Letizia.
Ms Lario said she could no longer be with a 'man who is ill and who associates himself with minors' -- she is trying to claim £40million a year from the billionaire. News of the investigation came just hours after Italy's Constitutional Court had ruled parts of an immunity law brought in by Mr Berlusconi to prevent him from going on trial were unlawful.
On Friday, during a telephone interview on one of his TV stations before news of the probe broke Mr. Berlusconi said: 'Everyone knows that there is a political persecution of me underway by left wing magistrates supported by left wing politicians.
'I don't believe you will find magistrates of such a view, who are willing to condemn me for facts which don't exist, anywhere else.'
Mr. Berlusconi is currently involved in several corruption trials which have been put on hold as a result of the immunity law he brought in but which will now resume later this year, although they are expected to be timed out.
Courtesy Daily Mail, UK