Dai Geng spent more than a year cementing the brick blocks together which he then carved into a model of a sporty BMW Z4, which can exceed speeds of 150mph. Except for the windows, everything is made from brick.
Mr. Dai even managed to make brick hinges so the doors can open and close. The car has been on display at Shenzheng, in Guangdong province, in southeastern China, and has now has been put up for sale.
Mr. Dai said: 'Only the windows are not made of bricks. Everything else including the tyres, the steering wheel, the exhaust pipe and trimmings are made of brick.'
He is hoping the car will be sold for use as a garden ornament and bought by one of the newly rich Chinese who regard BMW as extremely desirable because of the quality and performance.
The brick car, which is 5 metres long, 2.15 metres wide, 1.6 metres high and weighs 6.5 tons, was completed in 2007 and was displayed at different places, such as the 798 Art Zone in Beijing.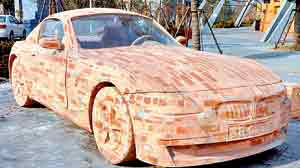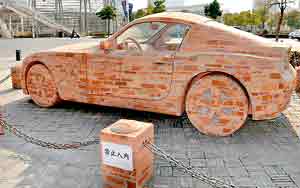 Chinese artist Dai Geng spent more than a year making the brick car which is a model of a sporty BMW Z4
Courtesy Daily Mail, UK