Cinnamon Lakeside Colombo is launching its latest venture – 8° (degrees) on the lake, a floating hotel venue for private events which is the first by a 5-star hotel. The 70' by 30' vessel which is in its final stages of construction will be the first of its kind on the Bsseira Lake. It will consist of an air conditioned lower deck and an open upper deck with a clear ceiling for protection and will accommodate 100 passengers, the hotel said.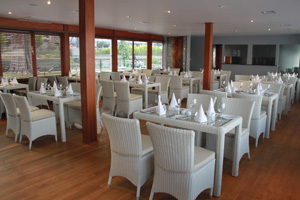 CINNAMON LAKESIDE BARGE -lower deck
The vessel offers a unique setting for exclusive, high profile events with its minimalistic chic interiors designed by Nayantara Fonseka of Taru fame. The layout and choice of décor is intended to capture the essence of its natural surroundings, it said.
"The Beira Lake creates a beautiful setting to our hotel but it is time that it became more than just a view," explains Denis Gruhier, General Manager of Cinnamon Lakeside Colombo. "8° on the lake was conceptualized as a means of extending the guest experience beyond the expected. Although Cinnamon Lakeside Colombo is situated in the heart of Colombo with every convenience a business traveler would enjoy, when a guest steps into the hotel they could easily forget they are in the city. Aboard 8° on the lake, the bustling city of Colombo will be a distant memory."
The hotel has already received several requests for bookings. Malcolm Thomas, Banquet Sales Manager at Cinnamon Lakeside Colombo foresees the venue lending itself to cocktail parties, gourmet meals, candle-lit dinners, champagne brunches, high teas, weddings, engagements parties, bachelor and bachelorette parties, birthdays and anniversary parties.