Richard Pieris & Company (RPC), celebrating 80 years of business, has ventured into insurance under its own identity to further harness the post war potential of the country's financial sector, with the launch of Arpico Insurance, recently.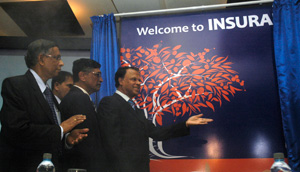 Pic by Saman Kariyawasam shows Mr Yaddehige launching the new company.
Commenting on this new business venture, Chairman Richard Peiris Group, Dr. Sena Yaddehige said that the RPC is very optimistic to explore the post war opportunities through diversification. "The launch of Arpico Insurance is one such occasion.
We are already in stock broking and financial asset management. Thus insurance is a natural extension to further increase the bouquet of financial services offered by the group," he said at the launch.
Plans are also underway to enter into the Leasing and Finance sectors within the next financial year, he added. The RPC Group posted an all-time high profit from operations during the last financial year at Rs. 3.4 billion and a post-tax profit of 2.2 billion in 2010/11 with an estimated group turnover to reach Rs. 32 billion.