Chevron Lubricants Lanka PLC, the pre-eminent marketer of Caltex branded lubricants Havoline, Delo and Lanka, this week announced the achievement of a decade of safety excellence for its operations in Sri Lanka, a significant milestone for the company, as well as its people and the industry. This exemplary achievement underscores Chevron's commitment to attain world class performance in every aspect of the business, a company statement said.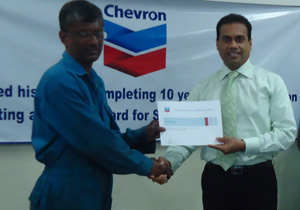 Picture shows Kishu Gomes, MD and CEO of Chevron Lubricants Lanka PLC handing over a certificate of appreciation to a Chevron employee during the ceremony held to commemorate the landmark achievement. Certificates were given to all Chevron employees, whose combined effort helped achieve exceptional safety results.
"No employee or contractor of the company has stayed away from work due to a workplace injury during this 10 year period. For a petroleum based manufacturing organization, this is a significant milestone to achieve and is a true reflection of the determination and commitment of our employees, and the world-class safety systems and processes in place to help our employees achieve exceptional safety results. By this we are also setting a new performance standard for other companies operating in Sri-Lanka," noted Kishu Gomes, Managing Director/CEO of Chevron Lubricants Lanka PLC.
At Chevron, Operational excellence (OE) is a critical driver for business success and is one of the key focus areas of the Company's enterprise execution strategy. Chevron defines OE as 'the systematic management of process safety, personal safety and health, environment, reliability and efficiency to achieve world-class performance.'
"It is the 'zero incidents' is achievable mindset that helps us achieve record-breaking standards in safety and operational excellence. After all, the ultimate success of improved safety performance depends significantly on the preventative principles inculcated in the minds of every employee," Mr Gomes said.