Kumarini Wickramasuriya moved to Tangalle for love. Born and raised in Colombo, educated at Ladies' College and in the United States, she would never have dreamed that the rest of her life would be spent in the sleepy southern town. But her husband, Dr. Sena Wickramasuriya was from Tangalle, and as they say 'ain't no mountains high enough for love'. "My husband taught me to love Tangalle, and he taught me to love the community," she smiles.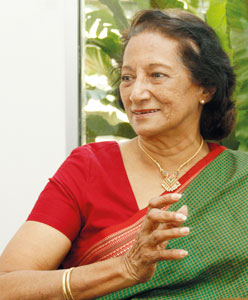 Kumarini: Advocating a holistic approach.
Pic by Indika Handuwala
He passed away after just 19 years of marriage in the 80's, but she continues to live down south, serving the community through Navajeevana, the primary organization working with people with disabilities in the Hambantota district. Founded in 1987, they have been working to rehabilitate people with disabilities in southern Sri Lanka for 25 years now.
Kumarini's husband died just before he realized his dream of opening an eye hospital for the people of Tangalle. Devastated by his death, she had a tough time getting back on track. It was Barbara Peterson, a close friend and fellow humanitarian, who encouraged her to form a centre that would help the disabled in the area.
At that time, people with disabilities were a stigmatized lot. Barbara, who had served as a teacher in a deaf and blind school, travelled to Jamaica during her vacation to visit a similar centre and see how it worked. The two of them also travelled extensively within the island and finally felt confident enough to embark on start Navajeevana.
"I remember making 200 handwritten posters and tacking them up around town. We had 45 letters within two weeks beseeching us for help. I was terrified! I immediately ran out and took down all those posters!' Kumarini laughs. "But eventually, I managed to get my head around the fact, and we hosted a health camp in my home, with all kinds of specialists who came in. From that camp, we picked 15 children who we believed really needed the help, but at the same time were cases we could confidently handle. We had three volunteers at the beginning who would visit these children in their homes."
Navajeevana has certainly grown. From three volunteers, it now has 180 active volunteers, handpicked from over 800 volunteers whom they have trained. The organization also employs 62 permanent staff, committed to making life better for those they serve. Navajeevana's staff are well looked after-they're regularly trained in life skills and some are even sponsored to go abroad for further studies.
From that first health camp, the organization continued to expand its activities. "We eventually realized that visiting our beneficiaries in their homes wasn't really helping. Something else that we also realized was that in a lot of these families, the disability wasn't the problem, but rather their inability to handle it. So we started a Community Based Rehabilitation Programme-we encouraged the community to get involved, for them to take an active part in our work and to also accept the differently abled. In 1988, we started our first preschool for these disabled children under a mango tree.
The second one was under a tamarind tree!' Kumarini smiles at the memory. "Now we have four of them in Agunukolapelassa, Walasgala, Kolombogedara and Tangalle. We've also established a partnership with Sight Savers Sri Lanka and the Ministry of Education to work on a model of inclusive primary education in Hambantota. We want to train the mothers in education so that they can in turn play a part in educating their disabled child."
Navajeevana is also a clinical partner for the University of Colombo and the University of British Columbia. A major focus of their programme, says Kumarini, is to reach the unreached. They provide audio services, hearing aids, and speech therapy-all in an effort to help more families to identify their children's disabilities at an early age. "A lot of people don't know that their disabled child can be helped," Kumarini sighs. "I remember one child like it was yesterday. We had been told of a disabled boy in a remote part of the area we were working in, so one day my colleagues and I visited this place.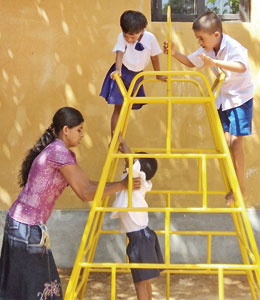 Activities at the centre for children with disabilities
There was no one around in the front, so we walked around back, and peered in from the kitchen window. What I saw can still bring tears to my eyes-there was this little boy who was running around with a dog. When we called out to him, the boy growled at us! Then we realized something was wrong-he was running around on all fours and eating from a dish that had been placed next to the dog's food.
The parents were farmers who went out to the field during the day-they had no idea what to do with the child, so they locked him up with the dog and left. Eventually, after a lot of therapy and hard work by our volunteers, we managed to rehabilitate him. I'll never forget that child-this is why awareness and early identification is so important."
Navajeevana does not just benefit the disabled. The community makes use of their resources as well, thanks to the community based rehabilitation programme. They are engaged in a responsible tourism project that sees the promotion of local crafts, and have even opened a Coffee and Crafts Shop at their premises. They will also implement a training programme this March for architects and other designers to promote a universal design of accessibility for the differently-abled.
"I think the present situation for people with disabilities in Sri Lanka is relatively favourable," says Kumarini. 'There is acceptance. It's up to us to follow that up. We do have a lot of support from the government, and very generous funding from CBM, an international Christian organization committed to developing the lives of the disabled in developing countries . Navajeevana does not only consider the disabled-we look at the community and try to take it from there. We use a holistic approach toward those we serve, and I believe that's why we've managed to reach over 40000 people across the south and other areas."
To read more about the organization's amazing work, please visit www.navajeevana.org