Come April, music fans in Colombo can look forward to seeing evergreen star Olivia Newton-John performing 'live' with the announcement that she has added Sri Lanka to her 'Asia 2012' tour.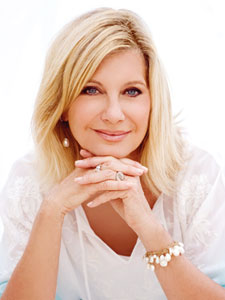 Evergreen star: From Australia to Asia
Famous for a string of hits including "If Not for You", "If You Love Me, Let Me Know", "Let Me Be There", "I Honestly Love You", "Heart Attack", "Have You Never Been Mellow", "Summer Nights", "You're The One That I Want", "Hopelessly Devoted To You", "Magic", "Xanadu", "Physical", and "Twist of Fate", the petite star who shot to fame in the 70's and survived breast cancer in the 90's has continued her successful career as a singer and actress.
A four-time Grammy Award winner who has amassed five No. 1 singles, ten Top Ten Billboard Hot 100 singles and two No. 1 Billboard 200 solo albums, Olivia Newton John is perhaps best remembered for her role in the film adaptation of the Broadway musical Grease, where she co-starred with a young John Travolta. Grease was one of the most successful film soundtracks in Hollywood history.
Olivia Newton John's music has been successful in multiple formats including pop, country, and adult contemporary and she has sold an estimated 100 million albums worldwide. She completed her Australian tour last week with two performances at the Sydney Opera House and her 'Asia 2012' tour begins on March 23 in Bangkok, followed by shows in Singapore, Kuala Lumpur, Manila and Hong Kong, concluding with the two Colombo concerts.
The Colombo leg of Olivia Newton John's tour will be handled by Wizard Entertainment, established last year by a group of music and entertainment enthusiasts, who in a post-war Sri Lanka saw the need for a dedicated organisation to foster arts and entertainment.
Her shows will be at the newly opened Musaeus College auditorium, one of the country's largest indoor theatres with 1,650 seats. Look out for more on Olivia Newton John in Colombo.