It was a beautiful morning when we reached Galle for the opening day of the Galle Music Festival on March 3. This event, a follow-up to last year's Jaffna Music Festival was billed as bringing together a diverse genre of music both folk and contemporary and had a line-up of local and international performers.
A few delays notwithstanding, the programme started with Southern Province Chief Minister Shan Vijeyalal, Galle Mayor Methsiri de Silva, and Norwegian Ambassador Hilde Haraldstad in attendance.
"Music is comforting in difficult times and it is a way to communicate with our hearts," the Ambassador said addressing the audience adding that she was glad to be a part of this event which brought many cultures together.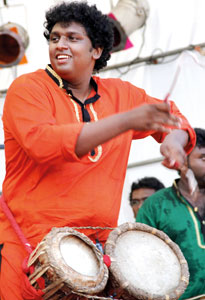 Members of Ravibandu's troupe (above and top right) started the event with a bang. Pix by Indika Handuwala
The acting representative of USAID echoing her sentiments said he was pleased to be a part of this unique performance. More than a 100 youth from Batticaloa and Ampara had come to watch the festival with USAID and many of them were visiting this part of the country for the first time in their lives. "This is a great opportunity for us to interact with friends from Galle and communicate with them," said Amal from Batticaloa.
Veteran drummer, dancer and choreographer Ravibandu Vidyapathi and his troupe opened the festival with an electrifying performance that prompted the Norwegian ambassador to say that she was told if one heard Ravibandu's music once one would need more of it and that she was in full agreement.
Speaking to the Sunday Times after his performance Ravibandu said this was his first time at the festival and that he felt privileged to open the festival. He also said that holding this kind of event alternately in Jaffna and Galle gives a great message to the people. "After the conflict it is time to reconcile and a programme like this will help to bridge that gap between the two communities," he said.
After Ravibandu it was the turn of local rock band K Roe. The drummer of the group, who is not even 17 years old, did a wonderful solo. Showcasing the country's diverse cultural traditions, were Aadi Vaasin from Dambana; Kaffer Manja, Sirambi Adiya, Kali Kambatam from Akkaraipattu, Rookada from Ambalangoda, Sanni Yakuma from Paravahera, Vasanthan Koothu from Kadduwan and more.
Sabreen from Palestine and Chhayanaut from Bangladesh were the international performers that day.
The audience reactions to the festival were overall positive. Nataliya who had come with her daughter Mayara from Australia said that this was their first time at the festival and she was enjoying it. "It is good to see different dance and music troupes of different cultures. It creates a beautiful atmosphere," she said.
Some performed at the festival to create awareness about conserving their culture. Aadi Vaasin from Dambana said that it gave them the opportunity to come to the city and make people aware of their culture. "Twelve of us came from Dambana and we expect the people to help us conserve our culture," a member of the group said. They sold some beautiful ornaments made out of Kiridi seeds, Kaluwara etc as well as bottles of medicine.
The festival also gave them the opportunity to perform on a different platform. "Usually we perform the Sanni Yakuma in villages when people are very sick. It is usually in a house or a temple. But here we have a wider, diverse audience," Somathilaka Paravahera who performed the Sanni Yakuma said.
However, some performers were disappointed by the small attendance. T. Raja Croos from Mannar who performed the Vaasappu said, "It is a beautiful festival but there aren't many people who came to watch the performances. If there were people from villages too then it would be have been a success."
Although the audience for the morning session was disappointing, the numbers picked up as the evening progressed. As night fell mats were laid out for people to relax under the stars taking in the music.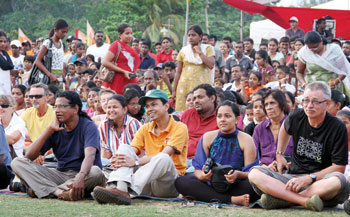 An appreciative crowd swelled in numbers as the day progressed
The first item for that evening was Rookada (puppetry) from Ambalangoda. "This is a dying art. This kind of festival gives us the opportunity to tell the people that such an art still exists in Sri Lanka. Sadly this is something that the government should do too. Even at the annual Dayata Kirula, puppetry isn't included. We are glad that at least a foreign organization,( the Norwegian Embassy), is interested in conserving this dying art," G. Previn who handled the puppet show said. Litjtausa from Norway - Marie and Julie the violinists created a wonderful atmosphere with their music drawing in the crowd to join them in one of their songs.
The other performances were Vasappu from Mannar, Vasanthan Koothu from Kadduwan,Evolution, Chhyanaut from Bangladesh, Kaffer Manja, Centigradz and Evolution. The Raghu Dixit Project from India had the crowd on their feet.
"It's amazing to see how friendly people are. It was a good experience for us. The mixture of different music shows how music is the true language of every country," Charlie a member from the Palestinian group, Sabreen said.
The music for that first night concluded with a rousing performance by local group, Centigradz.