A dark sky filled with stars hangs above the city, but down at the Bayou Mansions the women in leopard print are still awake. They are singing, their scowling white faces filled with malice and disenchantment. One of those faces belonged to Suzanne Andrade and by the time I meet her I am used to the idea that she can be many people. That night she played three different roles, one of which was a boy. Today, it's another shift. Dressed in a flared navy blue skirt and a neat white shirt, her hair bound in a striped red and white scarf and accessorised with a glinting clip, lips painted a happy red, she looks like someone who would drive away in a classic Chevrolet.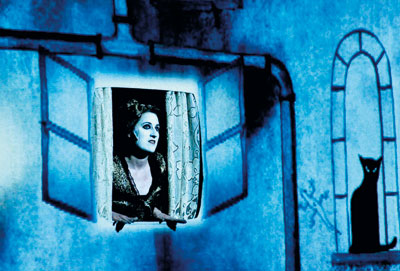 Suzanne: A compelling thought provoking performance. Pic by Susantha Liyanawatte
"It's just a joy being here. Everything is made so easy, and there's a real warmth in the audience," she says. Having written and directed the play 'The Animals and Children Took to the Streets,' Suzanne is pleased by their reception in Sri Lanka. She's travelled here with her company 1927; made up of herself, actress and costume designer Esme Appleton, actress and musician Lillian Henley, who have formed a close collaboration with animator Paul Barritt. You may remember the company for another excellent show with a protracted title – 'Between the Devil and the Deep Blue Sea' that wowed local audiences here a few years ago when the British Council brought it down fresh from the Edinburgh Festival. But where their debut was a series of clever vignettes, this is the company all grown up, producing fully formed, even more ambitious productions.
Sharply subversive, the play's plot is simple, its melodies hummable, its script littered with rhymes both irreverently comic and profoundly tragic. We find ourselves on the fringes of an unnamed city, down where the claustrophobic, matchbox apartments of the Bayou Mansions stand crumbling, down on Red Herring street, where a revolution is brewing. Sweeping in a hall where the cockroaches scurry over every wall, the caretaker dreams only of leaving. In a dingy apartment in another block, pretty Agnes Eaves and her little illustrated daughter have just arrived, fuelled by liberal goodwill and the conviction that the wild children of the mansions can be rehabilitated with a little "love, encouragement and collage."
In the hallways, the shadows of Wayne the racist and his little racist children hunt for their next victim, and down the road, the child gang lead by the intrepid Zelda lay their plots thick and ambitious – they want what you have out there. But Zelda is a disruption who will not be tolerated – particularly when she kidnaps the Mayor's cat and invades his park. In her immediate future are a sinister black collection van and a full course of Granny's green gumdrops. She is scheduled for a reminder that those born in the Bayou, die in the Bayou.
With little but a set of screens and many changes of costume, Suzanne, Esme and Lillian stand in for a modest crowd of characters and are amply supported by several animated counterparts, including little Evey Eves, who is impeccably well mannered except for the one time she wrenches her arm out of its socket and waves it around. Darkly comic, filled with big, coruscating visuals, 'The Animals and Children Took to the Streets' is part cabaret and part silent movie; it's a droll musical, a piece of studied social commentary, a giant graphic novel whose characters peer out of curtained windows and escape to traipse about the stage.
The show received a warm welcome in Colombo, with two sold out performances (followed by equally well-attended workshops.) Part of the undoubted success of their 70-minute show is that it doesn't labour its point, in fact it doesn't really have a point to make, except where it serves as a grim oracle predicting the inevitable. For the watching audience, the play's thematic concerns ripple out into the real world. With her frightening threat of 'we want what you have out there,' you can see Zelda running wild and hot with a looting mob in the middle of a London riot.
Suzanne who lives in East London wrote the play months before the riots and says she never anticipated the intensity of what happened, but that an "explosion" was coming was obvious in the very air of the city. "You can see that there's no communication between this very wealthy, very arty, very liberal middle class and those who live in extreme poverty…I think we were very inspired by that when we were making the show." Personally too, she drew from her experiences teaching in a school, where she saw young pupils put on the drug Ritalin. Though concerned that they were far too young to be given drugs to cure their depression or hyperactivity, she says also that in some cases children appeared the happier for it, doing better in class and at home.
Ranmali Mirchandani, Manager, Programme Delivery at the British Council was confident the play would resonate with local audiences. "It could be set anywhere in the world," she says. Ranmali chose the play from a British Council Showcase at Edinburgh not just because she loved the company's first show, but because it was clear they had evolved hugely in the intervening years. The company themselves know this has been a huge leap forward, particularly because they felt the stress of having to follow on the success of 'Between the Devil and the Deep Blue Sea.' "I've never ever created anything with an awareness of reviewers before and that was so difficult and a big part of the process was really not very enjoyable and nerve wracking. You wake up in the middle of the night thinking 'what are we going to do? Nothing is going to be good enough.' Even after they debuted it to audiences, they found themselves wrestling to command it - "At first it was very difficult, and it felt like the show owned us, we didn't own the show," Suzanne says, "we didn't always get it right."
Now having tamed the beast, the company is already looking ahead. They're working on Mozart's opera 'The Magic Flute' with a group of 60 opera singers and have also started toying with their own production which will feature a golem for a character and allow them to play around with stop motion animation, introducing scenes where illustrated characters develop into real actors and vice versa. For now though, they will continue touring with the show, waving their tabloid headlines at audiences, leaving us simultaneously entertained and faintly disquieted by the inverted writing on the wall.